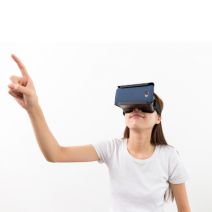 Entertainment has become such a huge part of technology consumption that nobody can think of a smartphone or the Internet without immediately thinking about it. In fact, entertainment has grown so important that some are trying to create machines that integrate virtual realities into the lives of everyday consumers. What is virtual reality, and is it limited to the entertainment industry; or can it be used in the business sector, as well?
What Defines Virtual Reality?
Everyone has a different opinion on virtual reality. Some might think it's as complicated as we've seen it in various films, but in all actuality, it's not quite as immersive as moving your entire body into a virtual space. You don't shift through dimensions. Your consciousness doesn't detach from your body.
As defined by the Merriam-Webster dictionary, virtual reality is:
[…] an artificial environment which is experienced through sensory stimuli (as sights and sounds) provided by a computer and in which one's actions partially determine what happens in the environment.
So, a virtual reality isn't necessarily a reality at all; in essence, virtual reality is tricking your mind through sensory shenanigans into believing that what you see and hear is really there.
Oculus Rift
The Oculus Rift is the virtual reality technology that consumers are most likely to be familiar with. It's manufactured by Oculus VR, which was acquired by Mark Zuckerberg of Facebook for two billion dollars earlier this year. The device in question, the Oculus Rift, is a headset that allows for sight and hearing stimulation via a heads-up display and headphones. Though a consumer version of the Oculus Rift isn't slated until later in 2015, it's sure to primarily be used by gamers; making it somewhat obsolete in the business world.
Google Cardboard
Not to be bested by Facebook's acquisition of the Oculus Rift, Google created Google Cardboard. Cardboard allows you to turn your smartphone into a virtual reality headset. With Google's cardboard blueprints, you can cut and fold cardboard into the base. While Cardboard is a neat, thrifty way to get a feel for what's to come, the material available for download is limited to a handful of games and short movies.
Google Glass
Google's take on a reality augmentation technology was mostly a bust, but in theory, it was a good idea. Google Glass was a pair of glasses that could act similarly to a smartphone, but hands-free. Some of its features included connecting the Internet, simple voice commands, a camera for both photos and videos, and a touchpad on the side which is used to control the device. It was even capable of using other Google applications, like Gmail, Google+, Google Maps, and more.
Unfortunately, Google Glass failed to take off because of its outrageous consumer price, and its stigmatized reputation due to privacy concerns. For the average consumer, Google Glass boasted a whopping $1,500 price tag. According to Forbes magazine, its parts and assembly should have cost less than $80. Furthermore, with a camera disguised as a spiffy pair of specs, Google Glass was at odds with privacy in general. In a world where organizations are increasingly sensitive to the preservation of their business secrets, it's no wonder that Google Glass wouldn't fit in with the business world.
Microsoft HoloLens
The development of Microsoft's HoloLens was largely kept under wraps until earlier this year, when it was announced that it would follow shortly after the arrival of Windows 10 this July. Designed as a reality augmentation device, it takes elements of the real world and integrates virtual elements into them. It's designed to work around your surroundings, and unlike the Oculus Rift, you still see your surroundings through the heads-up display.
Unlike the other two examples, Microsoft Hololens presents a unique business advantage. The possibilities are expansive. According to Microsoft's official HoloLens site page, it's expected to make leaps and bounds in the construction industry, space exploration, education, and more. However, whether or not the HoloLens will prove to be an efficient use of augmented reality is yet to be seen. It has big shoes to fill, and after the failure of Google Glass, consumers might be more skeptical of it.
What are your thoughts on virtual reality and augmentation in the workplace? Do you foresee a world where it can be efficient enough to accept its drawbacks? Let us know in the comments.