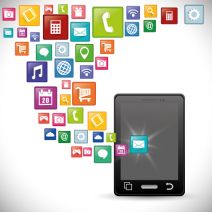 Mobile devices are changing the face of businesses in obvious ways, like employees accessing their work outside of the office. Additionally, there are many not-so-obvious ways that mobile devices and apps have changed work environments. Let's focus a moment on the little things around the office that have changed since mobile devices took over.
Calendars
Calendar making used to be a profitable industry. Calendars adorned office walls and inspired workers daily to be better people, one disposable page at a time. Also, let's not forget about how calendars make for that perfect, gender-neutral gift to contribute to any office's end-of-the year holiday gift exchange. Now, everyone just gives each other gift cards and hilariously-themed calendars collect dust at mall kiosks.
What happened? It turns out that every mobile device comes with its own calendar app. As workers adopted it, software developers integrated calendar apps to the cloud so that workers could sync their calendars for easy scheduling. This mobile trend effectively "did in" the usefulness of the 12-month calendar, but you may still find one or two on the office walls for novelty's sake.
If you're not taking advantage of your mobile device's calendar, check out these links on how to use your calendar's sync feature.
Notebooks
Another paper casualty of mobile devices is the office worker's trusty notebook. You used to see notebooks brought into every meeting, and the super serious note-takers would distinguish themselves with leatherbound notebooks, emblazoned with their company's logo. While office supply stores are bemoaning the demise of notebooks and pens, workers are taking better notes and collaborating in new and exciting ways via cloud-based apps.
There are a variety of mobile note-taking apps on the market, and they each allow you to do much more than scribble ideas and cartoon characters on paper. Mobile apps like Evernote, Microsoft OneNote, and Google Keep allow users to capture screenshots, upload files, record audio, and of course, jot down meeting notes. These notes can be tagged to make them searchable, and stored in the cloud so that every member of your team can access them.
Fax Machines
The adoption of mobile devices should've been the final nail in the coffin for the office fax machine. Actually, email should've been the technology that killed off the fax machine. Yet, despite advancements in email, cloud computing, mobile devices, and even the leadership baton being passed from one generation to the next… and then to the next, fax machines still have a strong presence in most modern offices.
It's our hope that the advancements of mobile technology have caused the mighty fax machine to lose some sway over its users. Remember, if you're altogether tired of dealing with your fax machine, then NuTech Services can provide you with technologies to phase it out, like our fax server solution and a host of digital communication apps for your mobile device.
Why You Need to Adopt Mobile Solutions
Maybe you're old fashioned and you just like the feel of working with paper, the thrill of turning over a calendar page at the first of the month, and the ear-piercing sound of receiving a fax. That's all fine and good, but as a modern business owner, it's in your best interest to adopt mobile solutions for your company. If you don't, then your mobile-device-loving employees will bring their gadgets into the workplace and do so on their own. The danger of them doing this is that you'll lose control of how company information is shared and stored, which could lead to a major data breach.
Instead, you need to be proactive about implementing an official mobile solution for your office that everybody can access and use from their approved mobile devices. Due to all the different devices out there, and the different expectations of your employees, getting everybody to use the same mobile solution can prove to be quite challenging. At NuTech Services, we're here to help equip your business with mobile and cloud-based solutions that meet your company's needs perfectly. For more information, give us a call at 810.230.9455.