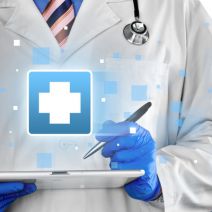 Remote technology is so efficient and popular that it's infiltrating many industries that you'd be surprised to hear about. One such sector is the healthcare department. Some doctors are taking advantage of the leaps and bounds made by technology to help their patients get back on their feet as easily as possible.
As managed service providers, our primary goal is to use remote technology to help users solve their IT crises. Similarly, doctors can use remote technology to diagnose and treat patients, much like how we do with our own systems. UnitedHealthcare, one of the largest health insurance providers in the United States, supports what WIRED magazine calls "telemedicine;" a video visit from a doctor who offers consultation services rather than an in-person appointment. As reported by WIRED:
United says it will cover virtual doctor visits offered through NowClinic, Doctor on Demand, and American Well. These platforms connect patients with thousands of doctors—albeit not the patient's usual doctor—via video chat. These consultations typically cost $40 to $50 a pop, but now that United is covering these visits, members will only have to pay their usual co-pay, making virtual medicine much more affordable for more people. For now, these virtual visits will be available only to UnitedHealth's self-funded customers, but the feature will expand to most members by next year.
So, remote technology is helping more people stay healthy simply by allowing them to access a doctor's consultation whenever they need to. This makes it more convenient for not only the patient, but the doctor, as well. They don't have to arrange for an on-site diagnosis, and they can avoid any contagious sickness easily enough. It's simply a much more efficient way of doing things, and allows for more affordable healthcare in general.
In fact, remote technology is such a great tool that any industry can take advantage of it. We at NuTech Services perform most of our maintenance remotely. Managed IT companies use remote technology to ensure that a business's operations continue to run smoothly. With the assistance of remote technology, NuTech Services can monitor your business's systems for critical security flaws and administer patches accordingly. This helps us prevent damage that cannot be undone, like a loss of business data or personal information.
The primary reason remote technology is so useful for managed IT service providers is that your business avoids most on-site visits, eliminating the costs associated with them. This frees up a significant amount from your budget, and allows for more effective use of your IT expenses. Every time you opt for remote management and maintenance, you're saving your business money. In fact, most issues can be resolved without an on-site visit. Granted, some hardware problems cannot be resolved remotely, so you can't completely eliminate the costs of on-site visits; still, being able to mitigate them is often more than enough to make a difference.
For more information about how we can remotely monitor and maintain your infrastructure to optimize your system's health, give NuTech Services a call at 810.230.9455.