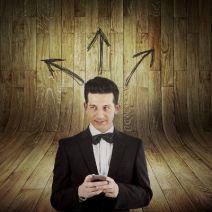 Using your smartphone to tether another device like a laptop to the Internet can come in handy when you need to accomplish a task that can't be done on your phone (which is becoming increasingly rare these days). Most smartphones present the user with three ways to tether their Internet signal. What are they and which is the best?
Connecting with a WiFi Mobile Hotspot
Advantages
Using your smartphone as a mobile hotspot to broadcast a WiFi signal is the easiest way to connect your WiFi-enabled device to the Internet. Additionally, depending on your phone's reception, today's smartphone's are capable of producing signals that are on par strength-wise with a wireless router. In fact, many smartphones are capable of connecting as many as five devices to the Internet from their mobile hotspot.
Disadvantages
Security is one disadvantage of using your phone to create a mobile hotspot. Your phone's WiFi signal will be vulnerable to any hacker within range. Be sure to take the same WiFi security measures that you do with your office's wireless routers. Also, using your phone as a mobile hotspot can quickly drain your battery, so plan your battery usage accordingly and have a charger handy.
Tethering with a USB Cable
Advantages
Battery life isn't an issue when going with USB. Your phone will receive a charge via your device, so you will only have to worry about the battery of one device instead of two. Additionally, the Internet signal is pushed only through your USB cable, making it a more secure option than a mobile hotspot. Plus, in most cases a wired connection yields a faster signal.
Disadvantages
Having to carry an extra cable around can be a bit of an inconvenience, and so is having to keep your smartphone within arm's reach. Tethering with USB may also require special software and configurations for each device, so there might be a few more hoops to jump through than using mobile hotspot, but if you've got a cable handy and you're planning to work while sitting in one spot, then it's probably worth it.
Make an Mobile Internet Connection with Bluetooth
Advantages
Similar to WiFi, you can use your phone's Bluetooth signal to wirelessly broadcast an Internet signal for your device. Thanks to Bluetooth being specifically designed for mobile needs, it uses less battery power, as well as offers better security thanks to Bluetooth not being as common as WiFi.
Disadvantages
The disadvantage to Bluetooth is that it's not as easy to configure as WiFi. According to Pocketnow:
It's a little more involved to set up than WiFi, and a little more involved every time you want to use Bluetooth tethering. If power consumption is a concern, Bluetooth is probably the way to go, if you're willing to configure it.
So which tethering option is the best? It really depends on your needs.
Do you need help with tethering your mobile devices, or want to securely equip your office with mobile technology like cloud computing? Then call NuTech Services at 810.230.9455.