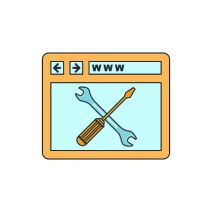 Bad news for users still running outdated versions of Internet Explorer – Microsoft has ended support for its legacy web browser. What this means is that Internet Explorer 8, 9, and 10, will no longer be issued critical patches and security updates, making its continued use a security risk.
As of January 12th, 2016, Internet Explorer 8, 9, and 10, will no longer be supported by Microsoft. This effectively forces users to either upgrade to the most recent version of everyone's favorite web browser, IE 11, or switch to a competing web browser. Coincidentally, Microsoft also cut the cord on its Windows 8 operating system on January 12th, which seems like little more than a ploy to get users to upgrade to Windows 10. Thankfully, doing so will give Internet Explorer users access to IE 11, but it will also allow users the option of using Microsoft's new web browser, Edge.
Keep in mind that "end of support" for Microsoft products only means that they will no longer be issuing patches and security updates to these products. They won't disappear from your PC just because they've reached their end-of-support date. Basically, continuing to use software that's no longer supported is a security risk, and should be avoided at all costs.
It might seem painful to give up on Internet Explorer, but rather than focus on how IE fell from grace, it's less depressing to think about how great of a run it had in its prime. The fact remains that IE has fallen out of favor with users. As reported by CNet:
IE's worldwide browser market share on desktops dropped from 58.2 percent at the start of 2014 to 48.6 percent in December, according to tracking company NetMarketShare. During the same period, Google-owned Chrome's share rose from 16.4 percent to 32.3 percent.
This end-of-support date is a valuable reminder of just how important it is to be using the latest software and operating systems with your workstations and servers. If you're using unsupported software, there's a solid chance that your organization's sensitive data could be at risk of a data breach or compromisation. Hackers and other online threats will gladly abuse any advantage you give them, including weak points normally addressed through patches and security updates. This is why it's so important to keep your business's infrastructure up to date.
One important fact to keep in mind about Internet Explorer is that there are rare cases of mission-critical software relying on certain parts of outdated versions of the web browser. Some businesses run into problems being unable to upgrade a workstation because they can't afford to not be able to use this software. If you've had problems with this in the past, there's a chance that it can happen again. You should always consult a trusted technician before upgrading haphazardly to a more recent operating system or web browser.
Many businesses find it extraordinarily difficult to keep their technology up to date, primarily because they're already stretched too thin as it is. They simply don't have the time or technical expertise required to perform quality maintenance. SMBs benefit the most from outsourcing IT services, primarily due to the immense savings of time and capital that can be invested in improving the business. NuTech Services can provide quality IT services, like our remote maintenance and management service, that's designed to save you money while making IT management exceedingly easier.
For more information about how NuTech Services can make upgrading and maintaining your technology easier, give us a call at 810.230.9455.