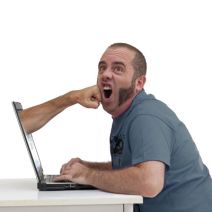 We all know that hackers are never good news. All they want to do is ruin someone's day by planting a threat in an innocent person's PC or steal some data from a business. However, some hackers could potentially have much more dangerous (and deadly) agendas, like sabotaging hospital equipment.
We know, you don't often associate hacking attacks with the physical world, but in many cases, some severe hacking attacks can have life-changing consequences. For example, hospital pumps that are responsible for delivering appropriate doses of drugs and other life-sustaining fluids to patients can be compromised and used for delivering deadly doses. Another example is the insulin pump, which monitors blood glucose levels, or the implantable cardioverter defibrillator, which is responsible for jolting patients back to life if they go into cardiac arrest. Perhaps one of the most nerve-wracking hospital hacks is that of a CT Scanner, where attackers can potentially change radiation exposure amounts and limits.
Now that we've completely ruined any further hospital experience for you, basically, what we want to get across to our readers with this article, is that you absolutely CANNOT dismiss hackers as potential threats, especially in a world where wars are being fought over the Internet, and technology aids in war zones in unforeseen ways. Hackers continue to find new and creative ways to engage in cyber attacks, and they will continue to pose a significant threat to your business if you don't do anything to stop them.
Hacking attacks against hospital equipment are a huge cause for concern, but you shouldn't underestimate attacks against your own company, either. Hackers access business networks just like yours on a daily basis, hoping to take something important and turn a profit off of it. This could be private employee records (Social Security numbers, dates of birth, etc.), client payment information (like credit card numbers), and other confidential information. Other times, hackers might not have any specific agenda, and could just be looking to wreak havoc with viruses, malware, and other damaging cyber threats. Either way, the introduction of malicious entities into your network could have disastrous effects.
The best way to avoid the fallout from hacking attacks is to prevent them from happening in the first place. Your business needs to take a proactive stance against all of the common avenues that hackers exploit to gain access to your network infrastructure. This means implementing powerful solutions that keep threats out, and those that can detect and eliminate potential threats found within an infrastructure.
A Unified Threat Management (UTM) solution is designed to offer the comprehensive protection that your organization needs to stay safe when it feels like the world is out to get you. A firewall can keep the majority of threats from accessing your network by checking out data traveling to and from your network. Compounded with an antivirus solution, you can effectively keep threats out of your system, and promptly eliminate those that do somehow get through. Additional security measures, like spam blocking and web content filtering, can limit your staff's exposure to potentially dangerous entities by keeping suspicious messages out of your email inbox, and blocking content that may be compromised while surfing the web.
While your business's network security might not be a life-or-death situation, a ruined business is a huge first step toward a ruined life. If you want to make sure your network is equipped to handle hacking threats, give NuTech Services a call at 810.230.9455.