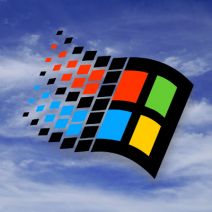 Do you remember the good old days of Windows 95? The nostalgia factor might be one reason to bring this up again, but the fact remains that Windows has changed significantly over the past twenty years; so much so that teenagers who were born just twenty years ago, after the introduction of Windows 95, may have no clue what they're looking at.
You can watch the video here:
Watching these teens react to Windows 95 is borderline painful. Some make comments that it looks "prehistoric," "dull," and "ancient," while others remark on how it looks somewhat like the operating systems that they are familiar with today. While many teens are in total shock over what they see, you can tell that some of the older ones are more appreciative of what they're looking at, despite agreeing that it's a very primitive OS for today's tech-centric world.
Here are some observations from this video:
"How do you turn this thing on?" Many of the teens were confused about how to power-on the PC and power it down. The large power button on the old CRT monitor drew a lot of attention, but the teens spent quite some time looking for the power button on the main component itself.
Windows has grown more refined and personal: Several of the teens who responded in the video mention that it's a little rough around the edges, but that it still seems somewhat familiar to them due to Microsoft keeping largely the same interface. Today's Windows operating system holds many of the features that were present in Windows 95, including the Start menu and several icons, like Internet Explorer (now Edge), and the Recycle Bin, but its graphics interface and usability is much better.
"Oh no, there's no WiFi!" These teens open up Internet Explorer (some of them saying that it's somehow even worse than it is today), but are shocked that the PC doesn't have WiFi. It just goes to show that they've been spoiled by two decades of technological innovations. People now believe that the worst thing that can happen to them is not having WiFi.
Technology has grown much easier to use: When given an explanation of how DOS systems work, the teens are in shock over how complicated and impossible it sounds to use the technology. One girl even makes a solid statement, "If users of consumer technology, like iPhones or iPads, had to enter in commands to open apps, nobody would use them." We've grown accustomed to simple, easy-to-use technology, to the point where it becomes a chore to use anything less than the most recent operating system.
Either way, it's incredible to think about just how far technology has come in just a few decades. Where will technology be decades from now? Do you have any fond memories of Windows 95? Let us know in the comments.