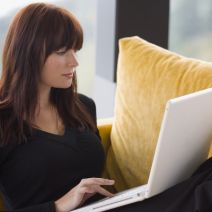 More businesses than ever before are finding value in allowing their workers to work from the comfort of their own homes, rather than have them drive all the way to the office to do a job that can be done from anywhere with an Internet connection. More importantly, it's much more cost effective for businesses to allow for remote workers. How can you make it as easy as possible for remote workers to get their jobs done?
Wait, why would you want to let your employees work from home in the first place? A lot of it has to do with cutting utility costs and other expenses, like hardware purchasing and energy expenses. If your team isn't in the office, you can save on electricity and (depending on your location) heat or air conditioning. Plus, when employees feel good, they're more likely to work hard, improving the quality of their work.
Here are three technologies that can help your remote workers get the most out of their workday.
Virtual Private Networks (VPNs)
One of the most common problems for remote employees is that they need to access files that are stored locally on their company's network. Since these employees aren't based out of the business's office, they won't be able to access them in the traditional method. This can prevent them from doing their jobs properly, especially if there are critical files that need to be used for their daily tasks. A VPN allows your remote employees access to files on the company network securely. This helps to ensure that your team stays productive, without compromising your data's security.
Cloud-Based Applications and Virtualization
The cloud allows for information and applications to be deployed via the Internet, which means that anyone with a stable Internet connection can access files or applications necessary to complete their day-to-day tasks. The cloud, in general, is a handy tool that can help you minimize your in-house IT footprint and improve data deployment, allowing your team to work from anywhere in the world that has an Internet connection; including on the road or on business trips.
Voice over Internet Protocol
Communication is yet another pain point that remote workers have trouble with. If your team needs to make frequent outbound calls, you want them to have a phone number that can be tied to your business. Furthermore, if you need to contact someone on your remote team, you expect them to be available through email, instant messaging, or via phone. With a Voice over Internet Protocol (VoIP) solution, you can transfer your voice over the Internet, essentially providing instantaneous communication via both voice or video chat.
Ultimately, it's your responsibility as a business owner to provide your team with the tools required to perform their daily duties, even if they work remotely. If your business is trying to achieve better operations via a remote workforce, contact NuTech Services, we can help!