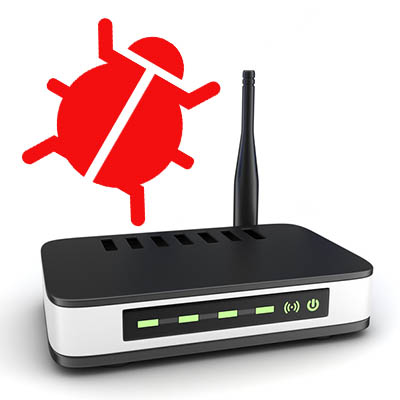 Hundreds of millions of people use wireless Internet connections every day, and as a result, hackers are taking that as a challenge. They are now starting to develop malware that targets people through their routers. Recently, security researchers at Kaspersky Lab have discovered the malware named Slingshot. The code is designed to spy on PCs through a multi-layer attack that targets MikroTik routers. Today we take a look at Slingshot, and other router-based malware and what you can do about it.
Slingshot
Slingshot works by replacing a library file with a malicious version that downloads more malicious components and then eventually launches a two-front attack on the computers connected to it. The first one runs low-level kernel code that gives an intruder free rein of a system, while the other focuses on the user level and includes code to manage the file system and keep the malware alive.
It is a very intricate attack that calls the nefarious code in from an encrypted virtual file system; managing to do so without crashing the host system, a feat not lost on the security experts at Kaspersky Lab, who deemed it a state-sponsored attack because of the quality of the overall attack and the complexity of its components. Reports suggest that the malware can basically steal whatever it wants, including keyboard strokes, passwords, screenshots, and information about network usage and traffic.
MikroTik has announced that they have patched the vulnerability on versions of their routing firmware, but concerns remain as no one is sure if other router manufacturers have been affected. If that were to come to fruition, Slingshot could be a much larger problem than is currently believed.
Other Instances
Slingshot isn't the first instance of a router turning on its owner. Traditionally, router security is known to be largely unreliable. Much of this is on the manufacturers, which have been known to build many different products without having a strategy in place to keep them working with up-to-date security. It is also up to the user to keep their router's firmware up-to-date – something that is very easy to not keep top-of-mind. Plus, some routers make firmware updates time-consuming and difficult.
To attack the network, hackers seek to change the DNS server setting on your router. When you try to connect to a secure website, the malicious DNS server tells you to go to an elaborately constructed phishing site instead. By spoofing the domain and rerouting you to a website that is specifically constructed to take advantage of you, you have very little chance of warding off the attack before it's too late.
Hackers have also been known to inject all types of user hindrances such trying to perform drive-by downloads, or inundating users with advertisements. Many attacks make use of cross-site request forgery attacks where a malicious actor creates a rogue piece of JavaScript that repeatedly tries to load the router's web-admin page and change the router's settings.
What to Do If This Happens to You
The first thing you should do is work to ascertain if your router has been compromised. You can do this in several ways, but the most telling is that your DNS server has been changed. You'll have to access your router's web-based setup page. Once in, you have to visit the Internet connection screen. If your DNS setting is set to automatic, you are in the clear. If it's set to "manual", however, there will be custom DNS servers entered in the space. Many times, this is the first sign of a problem.
If you have been compromised, ensuring your router is set up to your manufacturer's specifications will help you mitigate damage. To ward against this happening to you, you should always:
Install firmware updates: Making sure your router's firmware is updated to the latest version will definitely help.
Disable remote access: Stop remote access to secure against anyone changing settings on your networking equipment.
Turn off UPnP: Plug and play can be very convenient, but your router could be affected through UPnP if there is any malware on the network since it is designed to universally trust all requests.
Change credentials: Changing your passwords are a simple way of keeping unwanted entities out of your router.
For more information about network and cybersecurity, the expert technicians at NuTech Services are accessible and ready to help you keep your network and infrastructure secure. For help, call us at 810.230.9455.