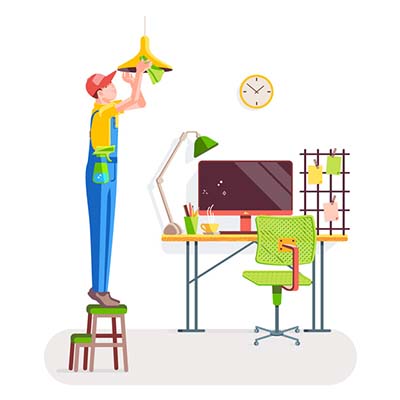 In keeping with the freshly rejuvenated feel that springtime brings, many people take advantage of this energy by doing some much-needed spring cleaning after the long winter months. Why shouldn't the workplace join in the fun? In this blog, we'll explain how a fresh and clean office can benefit your employees and your business as a whole – and just as importantly, how to go about tidying up properly.
Why Your Office Needs to Be Kept Clean
Regardless of the industry you operate in, chances are that your business relies on technology solutions in order to function properly. From this conclusion, it can be inferred that if your solutions were to go on the fritz or even break down entirely, you would find yourself experiencing downtime and the associated lack of productivity.
Keeping your solutions and the environment they are stored in clean and organized is key to maintaining their functionality. Without the proper care and maintenance, your technology doesn't stand a chance for very long, which can (and will) cause no small harm to your business.
To combat these effects, there are plenty of solutions you can deploy to assist you, along with some traditional cleaning methods and basic organizational strategies.
Digital Methods
There are plenty of ways to improve your organizational functionality, starting with your document organization solution. What is the current state of your retained files? Are they well-organized into a hierarchy, such that everyone in the business who needs access can gain it by following the system? Are they fully digitized and backed up, or are they squirreled away in metal boxes that take up valuable real estate? Going paperless is an environmentally conscious and admirable strategy, not to mention a good way to save some capital.
Organizing and Optimizing Your Computer
While you're occupied with dealing with your file storage and organization, it also doesn't hurt to take a look at some of your other technology solutions to ensure that everything is as it should be where they are involved. Take, for example, your email solution and its inbox.
It's no secret that email messages have a tendency to pile up and become unmanageable if left unorganized for too long. By auditing the messages you receive and setting up filters to automate their organization, you can make your inbox largely independent.
As for your desktop and the files found on it, treat the files there as you would the files in your document organization system. Are there any being stored on your individual device that should actually be stored in the company's shared files? A hierarchy of folders can help you organize any files that are left after those that can be moved to shared resources have been migrated.
Keeping Things Tidy
Of course, what's a good office cleaning without taking a few workstations and getting rid of any accumulated dust and grime? Have a trusted IT resource open up the devices and give them a thorough cleaning with some canned air, and clean out some of the exterior in the same way. You should also give your network infrastructure the same treatment with duster. Once your computers and servers are cleaned out, it never hurts to rethink your cable management to minimize dust collection and reduce the very real tripping hazard these cables can create.
Finally, you should also participate in some more traditional spring cleaning. Clean your floors and bathrooms, and get rid of any "science experiments" left in the break room refrigerator. This will all make your office environment more comfortable, healthier, and thereby more productive.
What are some of your best cleaning tips? Share them with us in the comments!