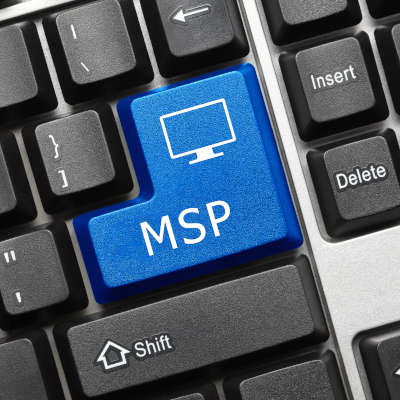 For most people, the term tech support is pretty self-explanatory. The terms managed services and MSP… not so much. Let's go over what makes managed services and what we do as a managed service provider so different from the IT support you may be used to. To start, we'll review where the idea of an MSP came from, and end with what one like us can do for you.
Defining Managed Services
On a very fundamental level, managed services and tech support are very different due to the way they operate.
Traditional tech support, also referred to as break-fix IT, are those that most people think of. Whenever a piece of technology breaks down or has some other issue, an IT technician is called to fix it. This was the predominant—and really, the only—option to receive any level of IT support for some time, despite the expensive repeat visits and prolonged operational interruptions that came with it. For larger enterprises, hiring full-time IT staff solved this problem. It's still costly, and often too costly for small businesses, but it does lead to faster turnaround times and ongoing support.
On the other hand, managed services are specifically designed with the small-to-medium-sized business in mind. Instead of waiting around for a company to call with an IT issue, a managed service provider will instead proactively monitor a company's solutions to ensure nothing goes wrong in the first place. We'll go a little deeper into how this is particularly beneficial later on, after we review how managed services came to be.
The Development of IT Support Services
Back when computers were first made available to businesses, small regional providers known as system builders that would construct generic computers for companies to use began to pop up. Large companies soon followed suit, and as a result, the high price of personal computers was reduced significantly.
In response to this change, system builders shifted away from the labor-intensive creation of computers to simply reselling those that the larger companies made. This gave them the title of systems reseller and proved to be a lucrative approach… especially without the Internet to facilitate direct-to-consumer computer sales.
Despite this, resellers discovered that they could generate higher profits by adding to what the manufacturers were providing. This led to the development of value-added resellers, or VARs. These VARs would sell the machines to consumers, as well as help install them and add them to existing computer networks. These networks and their needed infrastructure grew in importance as the Internet became a viable tool for businesses to use in the 1990s.
It was then that the VARs became systems integrators, and commonly provided break-fix repair services.
As the 1990s approached the 2000s, IT services were common enough for providers to start to act as advisors to their clients, recommending tools and introducing best practices into the clients' networks. It was then that the term IT consultant was used.
Finally, with businesses relying on their technology more than ever before, it was no longer sustainable to solve problems after they happened. This helped drive the idea of proactive monitoring, remote maintenance, and online service delivery forward. At this point, the managed service provider was a reality, with the security of proactive support delivered in return for a set monthly fee.
What Can an MSP Do for My Business?
Today, managed services are the right choice for a business that wants to improve its operations while managing their time and budget more effectively. With a single provider taking care of all its IT management and maintenance needs, a business subscribed to these services gets to enjoy clear operational benefits with the confidence that their technology is reliable.
NuTech Services is proud to be known as an MSP, delivering top-notch solutions and services to businesses in a sustainable and beneficial way. To learn more about how we can assist you in your operations, give us a call at 810.230.9455.