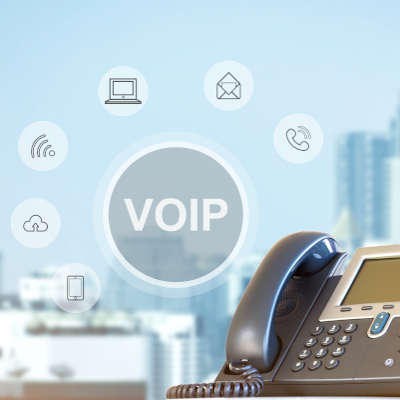 With the widespread support of social distancing that current events have encouraged, remote working options are seeing an understandable surge in popularity. In order to make the most of "telecommuting," as it is referred to, there are a lot of reasons to use a Voice over Internet Protocol, or VoIP, solution. Let's go over some.
To start, let's consider the situation that we find ourselves in.
With COVID-19 still spreading, the general consensus is that spending time around other people is currently a bad thing, making the workplace a less-than-ideal environment in which to spend one's time. As a result, many people have self-quarantined themselves in their homes. With today's available technology, however, this does not mean that they cannot get work done, with the cloud offering great opportunities for collaboration and remote work. This plays into VoIP's benefits quite nicely.
For instance…
VoIP Can Simplify the Remote Process
Consider what your team might require in order to complete their tasks while out of the office. They should have a workstation of some sort, naturally, whether that be a laptop that travels between their home and the office, or a desktop device set to securely access their work resources. However, another piece of equipment that is generally necessary for many employees is an office phone… something that was once a much less portable solution.
Today, VoIP can change that, by allowing you to use the phone through the Internet, not the traditional dedicated phone lines. This means that your employees can continue to make their typical business calls, without the need to be in the office. Using the same business number, an application on their workstation or mobile device can take or make calls (along with a wide variety of additional features) from anywhere that they can establish an Internet connection.
VoIP is a Secure Means of Communication
When your workforce has the opportunity (or, as we're now experiencing, need) to work from home, they will still need to communicate with one another. However, many residential Internet services lack the inherent security that many business conversations will require. No matter how efficiently you want your business to operate, no productivity is worth sacrificing security for.
VoIP allows you to enjoy the best of both worlds. By combining the cloud-hosted nature of VoIP with the use of a virtual private network (VPN), you can be confident that any conversations held over the VoIP system are private and secure. This is handy, as your employees could find themselves having to share protected data over the phone with their teammates. A VPN will protect their conversations from being listened in on, as the connection will be distorted to any outside observers by the inherent encryption of the VPN.
VoIP Incorporates Other Forms of Collaboration
Namely, video conferencing. Many VoIP platforms offer some kind of video conferencing feature, permitting a face-to-face interaction between callers, regardless of the distance between them. A big concern that is common amongst remote workers is the feeling of isolation that can develop from working alone.
By using the conferencing capabilities that the right platform has to offer, your team can interact with each other in a more personal way. This reinforces the idea that they are a part of a team, keeping up their morale and encouraging them to work collaboratively to accomplish their shared goals.
To learn more about implementing a VoIP solution for your team's use, reach out to the professionals at NuTech Services by calling 810.230.9455.