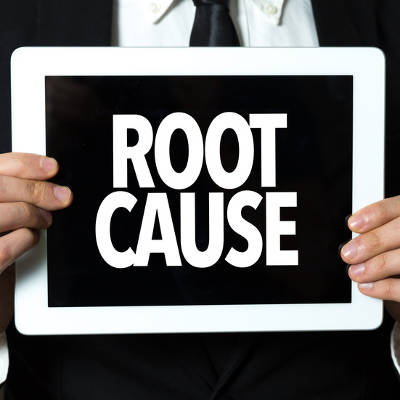 Downtime is something that no business wants to imagine, but it's something that is practically inevitable if you don't prepare for it. You'll be forced to wonder how long it will take to get back in business, but how this problem occurred is also important to discuss. Understanding how IT downtime occurs within your organization is the first step toward making sure that it can't happen again.
It's clear that being able to diagnose IT problems is a great asset to your organization since the issue will be identified and resolved in a timely manner. This information can help you keep issues to a minimum moving forward. The act of getting to the bottom of a problem is called a root cause analysis. An analysis of this variety focuses on basic troubleshooting practices, which begin by looking at the functionality and performance of your technology infrastructure. Since networks typically expand and become more complex over time, your root cause analysis will only grow more challenging to pull off.
Let's consider how much work goes into performing a root cause analysis for a small business with only one server and a few workstations, compared to a larger organization that implements more advanced solutions such as desktop virtualization or cloud computing. Chances are that finding the root of a problem for a larger business will be more of a problem, as there is simply more ground to cover than with a smaller organization. Plus, ensuring the quality and accuracy of your root cause analysis will be more challenging without an IT expert on-hand to oversee the process.
In these situations, it's also important to involve IT in the decision-making process when upper-level executives are making technology-related choices. Since IT outages often extend much farther than simple equipment malfunctions, the problem area is frequently a poor IT policy–something that a trained IT professional will be able to identify and resolve as the need arises.
Even something as simple as a hardware replacement policy could be a problem if it's not up to the requisite standards. Any good IT technician knows that hardware cannot and will not last forever and that it will start to show signs of degradation. Therefore, the need to replace technology before it breaks down and hampers progress is of the utmost importance, so as to avoid data loss and the expensive unexpected costs of replacing servers, workstations, and other major components. If these solutions are being monitored properly by trained technicians, chances are that they will see the problem and address it before it becomes a major concern.
A proper IT technician can identify and resolve the issues on your network so that they don't grow too large and become major problems. Unfortunately, smaller organizations with less flexible budgets often can't support this proactive maintenance in house. In situations like this, NuTech Services is glad to help with our managed IT services. We can monitor your network and minimize the damage that your organization experiences from hardware failures, downtime, and data loss. To learn more, reach out to us at 810.230.9455.