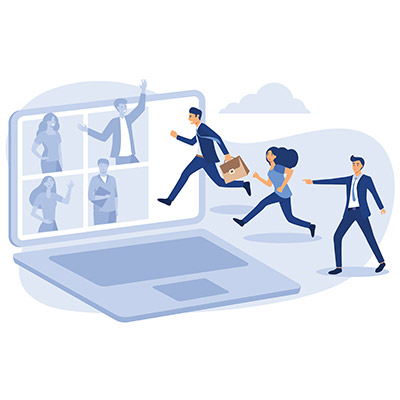 Widespread remote work is a relatively new method of operations for most businesses, but even with the limited amount of time it has been in play, the benefits it contributes have been made abundantly clear. Working on the assumption that remote work won't be abandoned as quickly as it was adopted and instead may see some growth, let's hypothesize what impacts it could bring to society as a whole.
To be fully transparent, we will be including both the positive and potentially negative impacts that these societal shifts could bring.
Housing Costs and Availability May Balance Out
We've all heard (and potentially felt firsthand) the costs that have become associated with the areas where there are, statistically, the greatest number of jobs available. While big cities have a lot of employment opportunities clustered in (relative to the size of the country) very small areas, the housing costs for these cities have created a housing shortage in many metropolitan areas. Overall, the country is short almost 4 million homes (as of early 2021), with most of this shortage seen where the available jobs are the most valuable.
With remote work, however—particularly if full remote work is ultimately embraced—these jobs could be filled without people needing to cluster in areas where housing costs are so high. Someone working remotely could enjoy the benefits of a job in a valuable market while enjoying the housing costs of a far less expensive area. While experts anticipate this might bring housing prices up in these less expensive suburbs and small towns, it would also greatly decrease the costs associated with big city life… after all, building owners and landlords need someone living there and paying the rent.
Again, if this is to work, there needs to be a balance struck between the increased cost of the more affordable housing and the decreased cost of urban housing. One example of this in action has been the Tulsa Remote program, where Tulsa, Oklahoma offered numerous perks to remote workers who came to live in the city—including a $10,000 grant—for a year. By investing in their local amenities and community-building endeavors, Tulsa has seen success in attracting new, high-earning residents.
How much success? According to the Economic Innovation Group, Tulsa has seen a return on their investment of $13.77 for each dollar spent to incentivize remote workers to relocate there.
The Climate Could Benefit
One might think that, as people migrate from urbanized areas with their public transportation and other, relatively climate-friendly habits, there would be a net deficit to the environment. After all, less public transit and walkable amenities would equal more vehicles on the road and more emissions.
However, that's under the assumption that the urban ex-pats would leave their habits in the cities. If zoning laws were to shift to allow for more urbanized suburbs, we could see an increase in these walkable amenities—more family restaurants in neighborhoods, for instance, or increased public transportation options where there are currently relatively few.
We also can't forget one impact we've already seen great benefits from, thanks to remote work—business travel, particularly cross-country air travel, can be effectively wiped out. With so few people flying for business, rather than pleasure, there are scenarios where the decreased emissions due to flights can actually balance out and outweigh those that a driven commute to work develops.
Let's Be Clear—We're a Long Way from Ubiquitous Remote Work
We've touched on some of the obstacles already—like the shift in housing costs, for instance, and the fact that current zoning laws limit the walkability that would make suburbs more desirable—but there are many other reasons that some places just aren't friendly to remote work. Access to broadband is generally considered a prerequisite to remote work, but large swathes of the country still lack this kind of access.
There are many other obstacles that will need to be addressed before this kind of remote work is normalized fully. In the meantime, we can help set you up with the tools that allow you to take advantage of remote work for whatever reason you wish. Give us a call at 810.230.9455 to get started.