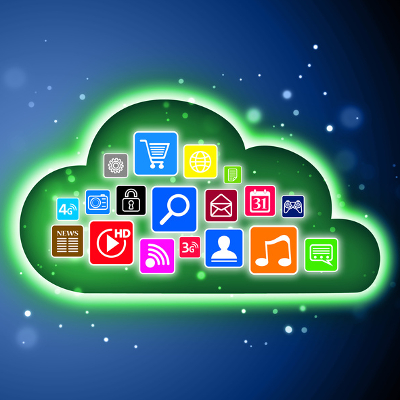 Does your business use any cloud-based applications to go about its daily duties? Chances are that with today's increasingly online business environment, it's not out of the question for many organizations to have not just parts of their infrastructure in the cloud, but entirely online infrastructures at that. If you're still considering the cloud as a tool for your business, we'll provide a primer of sorts to help you make an informed decision.
Applications
Applications, or "apps," are pieces of software that can be used for specific purposes in the workplace–but you probably already knew that. If used properly, they can streamline specific processes within your organization. Some apps don't use connectivity, but there are countless others that utilize it to connect all kinds of workers from the professional spectrum together. These kinds of connected apps are generally found in the cloud, and their wide range of use is one of the defining things about them.
The Cloud
You can think of the cloud like a big data center that gives you access to all sorts of software, processing, and storage options through your Internet connection. Computing resources tend to be made available to users through an "as a service" model, in which users secure access to it by paying a monthly fee rather than purchasing a license outright. Apps deployed through the cloud are slightly more expensive as a result, but the flexibility offered by being able to cancel at any time or add new users makes it a valuable opportunity to save money in the long run. Basically, it creates a situation where you transfer your capital costs of purchasing licenses to an operational cost.
Public, Private, Hybrid
There are several different ways that a cloud solution can be constructed. For example, most of the Software as a Service (SaaS) apps are offered as a public cloud solution, which means that the application and any processing or storage associated with it is on shared hardware. It's made available through the browser or dedicated app, and for this purpose, its costs are generally lower than more private solutions.
In comparison, a private cloud that's hosted in-house on a network or server unit is much more secure and customizable, as you're controlling all of the maintenance and management of the system. For this specific reason, however, we recommend private cloud systems only for businesses that have the assets to take care of them; this includes those who outsource IT maintenance or those who have an in-house IT department who can provide the necessary management and oversight of the system.
For the best of both worlds, a hybrid approach can work. After all, some data is more sensitive than other data is, so anytime-anywhere access to it might not be in your business' best interests. By combining the cost-effective public cloud model with the security of the private cloud, you can maintain adequate accessibility and data security.
Cloud Services
Just like there are many different types of clouds, there are many different cloud services, all for both businesses and individual users. There are generally three major categories that these cloud services are split into:
Software as a Service: Software delivery is the name of the game here, including communications (like telephone and email), productivity (Office 365), and even security.
Platform as a Service: Development is the main reason to go this route. This lets users create applications, collaborate on projects, and test new software without purchasing or paying for hardware.
Infrastructure as a Service: Virtualized environments that can be used for processing, storage, software, and so much more, are what a user gets from Infrastructure as a Service.
To learn more about how the cloud can help your business, reach out to NuTech Services at 810.230.9455.