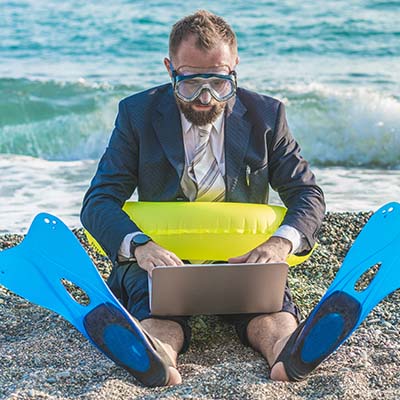 Remote work has become more legitimate than ever before to the point that people can now work effectively anywhere and not just their homes. This brings up an interesting question, however, as this trend means that one could effectively work while they're on a vacation.
Let's examine this trend of the "workation."
What is a Workation?
While a working vacation is by no means a new concept, the surge in remote work's popularity has resulted in a similar surge in the concept of simply working remotely from a vacation destination. For instance, someone who works remotely could do so while at a beachside resort rather than in their home. As its name suggests, it's a hybrid of the concepts of working and vacationing: a person can still accomplish their work-related tasks while also gaining many of the benefits that a vacation brings.
To be frank, a workation is a break from your typical workspace, not from work itself. It's also not a replacement for actual time off, but it can be pretty nice to change the scenery every so often.
The benefits of a workation are pretty straightforward:
By allowing the employee to engage in recreational activities when they aren't working, they are able to be more relaxed when they are. Even the change in environment can have a positive impact on overall productivity.
Offering the capability to partake in a workation can be a significant draw for new employees.
A workation can also expand on the perspective that an employee has, not only refreshing them and their productivity but giving them new ideas to implement.
Having said that, there are a few drawbacks to the concept. For instance, there can often be delays in communication when people are working remotely—especially when they are on a vacation. Plus, the workation itself can create more challenges in terms of lining up schedules and effectively collaborating.
While the choice of whether or not to enact workations into your policies is your decision, we wanted to give you a few tips to help make these workations (or any remote work, for that matter) as effective as possible.
How to Ensure That Your Workation is Secure
Regardless of where this workation is taking place, your business' security needs to be held in the utmost importance. That's why we recommend a few basics you should implement for your benefit:
Use a VPN – You want to ensure that your business' communications remain secure, regardless of where your team members are working from. A virtual private network can help you accomplish as much.
Enforce Multi-Factor Authentication – Multi-Factor Authentication (or MFA) is a great way to double-down on the protections that are afforded to you by your typical username-password authentication.
Educate Your Team – Your team members will be your biggest vulnerability against cyberthreats, unless you train them to be an asset. Making sure they know how to spot threats, and how they should react when they do, will be crucial to preventing issues from arising… particularly while working remotely.
So, what's your take on the workation? As a business owner, have you ever tried switching up the scenery while still getting work done? We can help you do so. To learn more, give us a call at 810.230.9455 today.