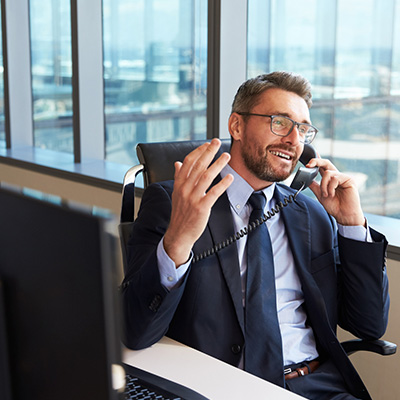 Telephones have been around for so long that nobody alive today lived in a time where they weren't in use. While the general use for the telephone has remained the same, the major difference between older telephone systems and many of the telephone platforms available today is how they are deployed. Businesses have more options for telephone services today than they have ever had before, and with so many options at your disposal, we're happy to help you weed out the right one for you.
Selecting the Right Type of Phone
It might be tempting to discredit the importance of telephony for your organization, but you should resist this notion. Businesses still rely on the phone to communicate both internally and externally, and eliminating it can create a situation where your clients have one less way of getting in contact with you. Therefore, the importance of the telephone in the office cannot be understated, as your reputation with your patrons hangs in the balance. As you can imagine, there are several different kinds of phones out there, each with their own pros and cons. It's up to your organization to determine which solution best suits your needs.
Landline
For a long time, the landline was the only kind of telephone solution for businesses. This utilizes the connections provided by a telephone company which consisted of private branch exchange (PBX) hardware in the office. This would give businesses the option to create extensions for employee and office, as well as opportunities for other services like call transferring and directories. Even though these are so familiar, many organizations are ditching landlines in favor of other solutions that are more flexible and efficient. It just so happens that the Internet and all its developments are much better at accommodating the needs of businesses, including new telephone solutions.
Virtual Phones
A virtual phone system can be considered a middle ground between the traditional form of telephony and a Voice over IP system. Incoming calls can be processed through a traditional telephony method, and they are then forwarded to the right employee through a VoIP system. This gives a business with both in-house employees and remote workers the opportunity to unify their communications. Additional features can also be added in for a more dynamic solution.
Voice over Internet Protocol
Voice over IP is a system that aims to cut out the need for traditional telephone solutions entirely. VoIP fully utilizes the Internet connection of your organization's office to fulfill all of its telephony needs. The right solution can give your business all it needs to be functional on any device from a desktop to a mobile device. There are some different ways to use VoIP, so you'll want to make sure you select the right method out of the gate to get the best return on your investment.
An in-house VoIP system will be an expensive up-front cost, as the equipment needed to host the system can be quite taxing on any normal budget. There will also be a monthly fee for the components needed to make calls, and any maintenance the solution requires must be administered by your in-house staff. The benefit to all of this is that you'll have complete and total control over your business' telephone system–something that no other solution can offer.
A cloud-hosted VoIP system means that everything is taken care of so your organization can instead focus on remaining productive with your time. This means that there is no need to buy hardware or maintain it on your end. In the event your phone system goes down, the provider is the one responsible–not you–meaning that you'll be somewhat reliant on others, but the productivity spike can mean all the difference. In the event your Internet goes down, you'll also be left without service, but again, this isn't something that's directly yours to influence.
It's easy to see why VoIP is such a great solution, but is it right for you? Find out by giving us a call at 810.230.9455.