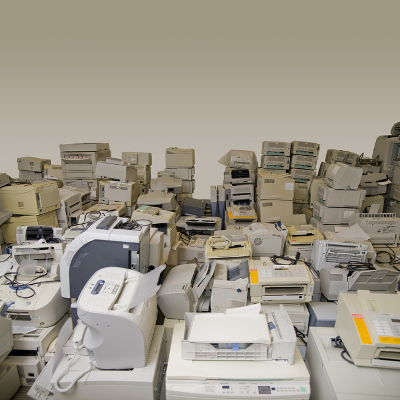 Take a moment to look around you and take in the amount of technology surrounding you. How often do you think this technology is replaced, and what do you think happens to the old tech? There needs to be more thought and effort put into its disposal than just throwing out a hard drive that no longer seems to function. Unfortunately, the amount of e-waste shows that may be the preferred method of disposal.
A discarded device follows the same path as the rest of the contents of your trash bin. Either your discarded piece of technology will find itself in a landfill, or left somewhere in a third-world country. Whichever option, the device is now a complete waste, as the materials used to construct it are now little more than bits of precious metals, glass that has almost certainly been broken by this point, and other bits and pieces.
The statistics surrounding e-waste can be pretty staggering. For example:
2016 alone saw 45 million tons of electronics thrown away.
Only 20 percent of e-waste makes it to be documented and recycled.
The raw materials in devices that are thrown away value in at about $55 billion, smartphones contributing $9 billion to that total.
76 percent of all e-waste goes unaccounted for.
Of course, as technology advances, there is going to be more and more e-waste produced. However, there is another issue regarding e-waste that your business could be especially affected by if your e-waste isn't handled properly, and that's your business' data security.
Security Concerns
If your devices are discarded with information still on them, that data is at severe risk of being compromised, especially since the devices are no longer in your possession.
What if you got a new smartphone, and just toss out the new one? Sure, it's dead now, but all it would take for any data it held to be compromised is someone with a charger cable and a basic knowledge of how to break into a phone. Now, any accounts that you used on the device, both business and personal, are at the mercy of your phone's new owner. They could access your company's data in the cloud with a discarded external hard drive.
To avoid this, not only do you need to dispose of your old technology properly, you need to also make sure that any information on them is properly wiped and/or destroyed before you do so. While you could destroy the device yourself, the better option is to reach out to the professionals at NuTech Services. We know how to properly see that your devices are destroyed without the risk of leftover data causing your company grief. We'll even help you to recycle your device, so there's less of a chance of it landing in a dump somewhere.
To learn more about proper device disposal, give us a call at 810.230.9455.