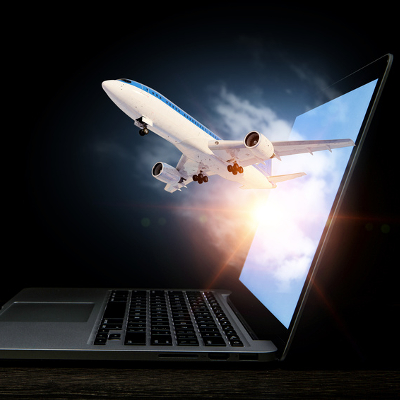 The holidays are approaching, whether we are ready for them or not. With the holidays comes time off, which means that it's awfully easy to fall behind post-vacation. Another concern is the amount of identity theft and credit card fraud that comes about during this time of year. We'll discuss some of the many ways that your organization can take advantage of technology this holiday season without putting yourself in harm's way.
Know Your Wi-Fi Options
You can't be productive without an Internet connection. This includes either mobile data or Wi-Fi. Chances are you'd rather look for an open wireless network than waste your mobile data, but unsecured networks can put your data at risk. One option you have is to check the reviews on sites like Yelp! and Trip Advisor to see what other guests have to say about Wi-Fi connections. Ideally, you want a VPN to secure your data while it's in transit.
Bring Along Extra Accessories
You never know when that extra LAN cable or micro-USB cord will come in handy. Furthermore, if you've ever done any traveling, you'll know that buying new equipment from an airport can be more expensive than you'd like.
Carry On Your Devices
If you need to travel for business, be sure to put your devices into your carry-on baggage at any airport. The last thing you need is for a screen to get cracked while your luggage is rolling around the cargo area of a plane. Furthermore, you don't want your luggage to be either lost or stolen while in-flight. It's just safer for you to keep anything important in your carry-on luggage.
Be Wary of Free Wi-Fi
You should keep your device from automatically connecting to any open wireless connection that it latches onto. The reasoning for this is that hackers will literally lurk on them, waiting to steal any data that presents itself to them. This can put both your own data and that of customers at risk–all because you checked your email.
Turn Off Your Autofill and Password Management
A password manager keeps you from entering in the same information over and over, but it should be disabled while you're traveling. What if someone steals your device? They would have access to anything that was auto-filled on it. It's like leaving the keys to your car in the front seat without locking the door. It's not impossible to go a few days without auto-populating passwords, and it sure beats the fallout of losing a device.
Use External Drives and USB to Back Up Data
What if you are working on a project while out of the office on vacation, and you misplace your device or it's damaged beyond repair? All of that progress would be gone. Now, imagine that you have that data backed up to an external hard drive. Now you don't have to worry about losing data or progress while working out of the office.
There are just a few practices that can keep your organization from succumbing to the dangers of traveling and working at the same time. If you have any questions, thoughts, or concerns about using technology while out of the office, reach out to us at 810.230.9455.