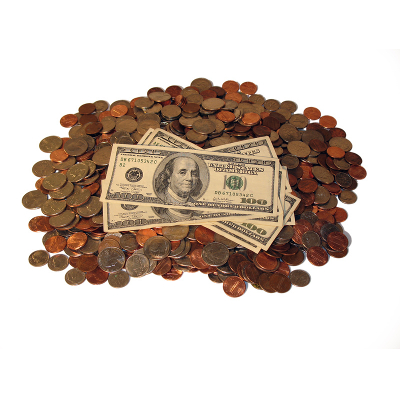 Tracking your net worth might not be the same as tracking how many much money you have in your account, but it's a good start. By tracking your net worth, you'll have a good idea of how your finances fare in the big picture of things. Doing this may even help you worry less so that you can focus more on improving your situation.
Finding Your Net Worth
To many people's relief, their net worth takes into account much more than just their paycheck. You can basically think of your net worth as the grand total of all of your assets, minus your liabilities; or, rather, what you have minus what you owe. It's actually quite easy for your net worth to increase over time, since you'll owe less and obtain more.
Therefore, the first step toward determining your net worth is putting together a list of what you currently own, versus what you currently owe.
What You Own
Home (its current value)
Other real estate
Automobiles and other vehicles like RVs and ATVs (leased vehicles don't count)
Jewelry and collectibles
Household items, like furniture, appliances, etc.
Retirement accounts, bonds, stocks, mutual funds
Cash value of life insurance
The balance of checking and savings accounts
Cash
What You Owe
Home mortgage principal
Other mortgage principal
Auto loans
Student loans
Credit card debt
Other loans
Once all of these items are in order, you need to plug this information into an online net worth calculator:
http://cgi.money.cnn.com/tools/networth/networth.html
http://www.creditcardfinder.com.au/net-worth
Tracking Your Net Worth
Now that you've attained your net worth, you can use a spreadsheet to track the growth–or (gasp) decline–of your net worth. Here are four ways that focusing on your net worth can be beneficial.
Financial progress: It's in our human nature to evolve and make progress, and keeping track of your net worth gives you some solid statistics that you can focus on. It's always great to look back on the previous month and see how much your financial situation has improved.
Confidence building: Keeping track of your net worth can be empowering. For example, saving an extra $1,000 in your emergency fund, or increasing your 401K with a bigger contribution can make you feel proud of yourself, and can help you stay focused on accomplishments rather than your debts.
Keeps you from focusing on assets: On the other hand, you need to keep yourself aware of more than just how much you currently have. Having $200k in assets is great, but you should also keep your $100k of debt at the top of your mind.
Acquiring loans: Your net worth could become a major factor when you apply for a loan in the near future. You want to ensure that you keep track of your net worth so that you aren't unpleasantly surprised in the event that you need a cosigner for a loan.
Can tracking your net worth be help achieve your financial goals? Try it out and let us know in the comments how it goes.