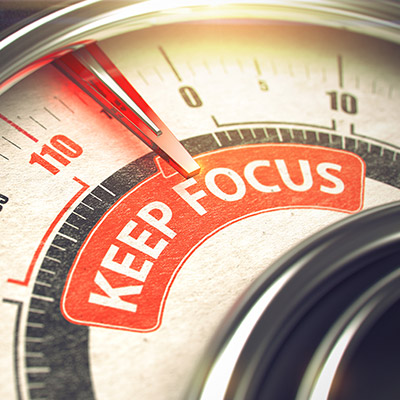 It can be difficult to stay focused in the workplace, especially with a litany of distractions at our fingertips at just about any point in the workday. What are some strategies you can use to keep your distractions to a minimum? We've outlined three great tips you can utilize to stay focused on the tasks at hand and be more productive with your time in the office.
Don't Ignore Distractions
Have you ever tried to ignore something that is bothering you for a long period of time? Let's say you are trying to write an email, but people keep barging into your office with all manner of issues to address. Sure, you could allow them to keep distracting you, but it will only take you twice as long to finish that email. Instead of just resigning yourself to the distractions, it's better to accept them and address them in an appropriate way, like closing your office door and locking it until you have finished the task at hand. The same can be said for just about any other distractions out there, like phone calls or emails. Acknowledge the distractions, then take steps to minimize them.
Focus on Being Proactive
When you are going about your responsibilities at the workplace, how often are you responding to things that other people are doing or putting out fires, so to speak? Sometimes it can be difficult to get to your own tasks if you are too busy helping people who ask you for help. Instead of going about your day in a reactive way, responding to issues that need your attention or tasks that get thrown at you last-minute, focus instead on being proactive with your time. Take measures to ensure that you can intentionally approach the tasks you have been assigned to complete or the ones that require your attention. Forgive us for making this analogy, but compare it to IT maintenance–-it's easier and more budget-friendly to keep a computer in proper working order than to fix one that is already broken down.
Minimize Digital Distractions Whenever Possible
Technology is wonderful for helping you get your work done, but on the other side of the aisle, it can distract you from getting it done. Services like social media, near-constant notifications for emails, text messages, phone calls, and everything else under the sun can distract you from your daily tasks. You can mitigate some of these challenges by disabling notifications for non-essential apps or services, as well as simply removing the temptation to check these websites by setting up website blockers or keeping your phone out of sight.
We know how hard it can be to focus on your day-to-day responsibilities when you have so much on your plate. Distractions come in so many different forms, but you don't have to let them completely derail your productivity. To find out how we can help you implement technology solutions designed to enhance productivity, reach out to us at 810.230.9455.