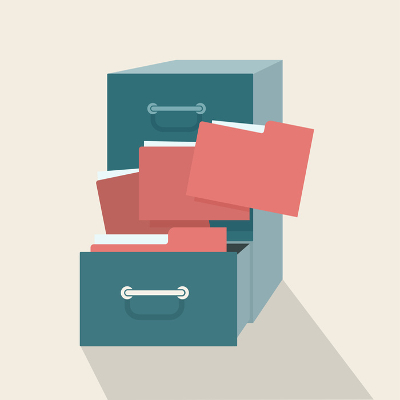 File storage is a staple in the office, and chances are that even your work desktop is jam-packed with files and folders that could use a bit of sorting. This might include moving all of your files to different locations, but you don't have to move each one individually. We'll go over the many different ways that you can move files, many of which can save you considerable time and effort.
Click and Drag
If your files are located in one location, like your desktop, you can simply click and drag your mouse to display an area-of-effect box. Any files within this box will be selected. You can then drag any individual file to the desired location and you'll move all selected files there. This is helpful if you have several files jumbled together on your desktop, and you want to move them all in one go.
Select the Checkboxes
In Windows 10, a little checkbox will appear when you hover over a file on the desktop or within a folder. If your files are scattered all over your desktop, you can simply check each of the boxes for the files that you want to move, then drag and drop any of them into the folder where you want them to be located. This will move every single item you checked to the designated location, saving you considerable time and effort.
Click and Shift
You can easily select files that are stored horizontally and adjacent to each other by using the Click and Shift method. First, select the first file that you want to move. Then, hold down the Shift key, and select the last one that you want to move. Anything stored in between the two will be selected. After that, it's just a matter of dragging one of them to the desired folder or location.
Hold Ctrl
If you hold down the Ctrl key, you can click on files that you want to move, and they'll be selected. Then, all you have to do is move your files to the appropriate folder.
Select Them All
If you decide that you really need to clean up your desktop, or move all of your files to a new location, you can use the Select All keyboard shortcut to do so. It's the same as it is in any word processor: Ctrl + A. You'll see all of your files in the current window, or your desktop, selected. Just drag them where you want and you're all set.
Keep in mind that many of the same keyboard shortcuts will also work with Mac OS X as well. Just substitute the Command key for the Ctrl key and many of them will provide the same experience.
Fun Fact: You know how Windows is bundled with Solitaire? No, we aren't assuming that you are playing it at work. Microsoft decided to bundle their OS with Solitaire as a way to get users more accustomed to dragging and double-clicking objects with their mouse.
For more great tips, reach out to NuTech Services at 810.230.9455; or, subscribe to our blog to receive new tricks straight to your email inbox.