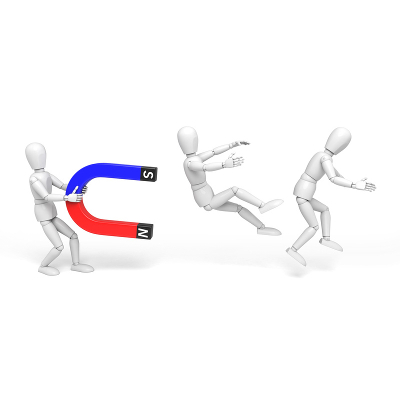 The endgame for most businesses is to improve what they do and increase their profitability. While this might mean selling more products, getting more customers or clients, or a myriad of other metrics, the driving force behind your business's operations–your employees–are crucial toward this goal.
Top talent can be difficult to come by. There are several factors that come into play, especially in a competitive industry. However, employees that go above and beyond are easily worth the struggle that it takes to find them. Therefore, it makes perfect sense to do everything you can in order to make your business attractive to them. Here are four ways that you can make your business a magnet that attracts talented workers.
Offer Benefits
One of the most effective ways to attract new employees is by offering benefits and sign-on bonuses. However, this can lead to you getting more applications than you have time to go through, with many of them possibly not being qualified for the position at all. On the other hand, this makes a particularly impressive employee stand out from the rabble.
In fact, these benefits don't necessarily have to involve finances. Instead, something as simple as flexible work hours, career advancement, and education may be motivation enough.
Challenge Them
Hard workers appreciate challenges as they provide a valuable outlet for users to test themselves. When you're looking for new employees, consider implementing some sort of challenge or homework assignment that you can use to gauge whether the prospective employees actually know what they're doing. This effectively helps you cut down on unqualified applicants, while also allowing you to engage your prospects from the get-go.
Idealize the Workplace
You can hire as much talent as you want, but if you don't provide your high-demand talent with a great work environment, they may pack their bags and look for a place that does. Be sure that you emphasize to your new onboards what the strengths of your company are, and allow the prospective employees to get a feel for your workplace. Plus, if your current employees have plenty of good to share about the company with the prospect, they'll be more likely to seal the deal themselves.
Provide the Latest Technology
It's a known fact that the latest technology can significantly improve the way that you do business, but did you know that it's also great for attracting new workers? A study of millennial workers found that 42 percent of them will seriously consider leaving a job if the technology used by the company doesn't meet their high standards. While this might be seen as your typical millennial boo-hooing, keep in mind that they will make up the majority of the workforce as early as 2020. Therefore, it make sense that you would want to hang onto young talent when you can.
One of the ways that you see millennials using their technology in the office is through the use of smartphones, which can also put your business at risk. Be sure that you implement a solid BYOD policy and ensure that they adhere to it. NuTech Services can provide you with the assistance needed to do so.
Basically, these four tips are meant to help you attract the best talent possible. Plus, if you manage to get some good employees, that means that they aren't working for your competition, which is always a plus.
Bonus Tip: Outsource the Technology Upkeep and Maintenance
One of the biggest issues that SMBs might have is finding qualified technicians to take care of their office technology solutions. While this is a challenge, it doesn't necessarily have to be. Outsourcing services like IT is often preferable to hiring new employees and adding new salaries to your budget. Instead, all you have to do is make room for an IT budget, which can save you plenty of capital in the long run, and then be used to onboard talented staff. In fact, we highly recommend outsourcing as much as possible. To get started, reach out to us at 810.230.9455.