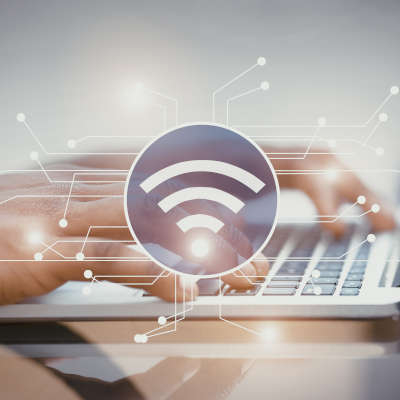 The COVID-19 pandemic has a lot of people spending a lot of time at home. As a result many people are getting more out of their Internet service. With school starting back up and people still working from home, the Internet needs to be available for everyone in the house. One of the best ways to make this happen is through Wi-Fi. Oftentimes, however, setting up a Wi-Fi connection can be troublesome. Today, we thought it would be useful to give you a couple of tips that can help you get the most out of your Wi-Fi network at home or in the office.
Strategic Placement
Wi-Fi depends on a couple of pieces of hardware and a couple of other factors. Firstly, ensure that your modem is connected correctly and that your router is connected securely to your modem. Nowadays, they are typically found in the same unit for home use. A key factor to setting up your router is that it has as few obstructions between devices as possible. Wi-Fi is just wireless radio waves, so ensuring it has a clear path will help the reliability of the signal that gets to your devices.
To make this happen, you will want to choose a centralized location in your house or office to install the router. You will also want to elevate it over most obstructions. If your modem is on the floor there are many more obstructions close to the floor than there are near the ceiling. Setting up your router up high will work to keep your coverage relatively consistent throughout the environment.
Utilize Wi-Fi Extenders Where Necessary
Some places have too much "place" for your Wi-Fi signal to effectively reach all ends of a property. When this happens, installing a Wi-Fi extender may be your best option. Effectively, these devices just repeat the frequency coming from the router to a larger area. If that doesn't do the trick you could outfit your home or office with additional routers that will do a better job broadcasting Wi-Fi signals.
If you are having problems setting up your Wi-Fi connection, or you would like to get some expert advice before networking your home or office, call the IT professionals at NuTech Services today at 810.230.9455.