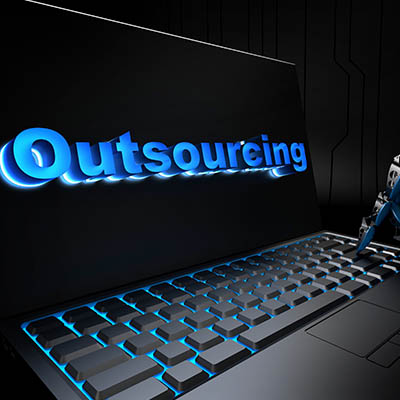 Information technology continues to play a more significant role in businesses, and as technology changes, so should yours. IT procurement is a critical part of any business' success, which means that your business can greatly benefit from a managed service provider. They have the know-how to procure all of the best technology. Today, we will discuss how your business can acquire the IT it deserves.
Businesses Depend on IT
There are a lot of different pieces of technology that go into a business, and like a puzzle they all need to fit together and work. So where do all of these puzzle pieces come from? Let's examine different types of technology.
Servers and Networking
Here are two scenarios, and the different methods businesses use to handle them:
Walter's business is growing extremely quickly, but his servers are the same ones he's been using for years. He realizes he is running low on storage space, and his increasing staff puts pressure on him to upgrade his server. Walter manages to cobb something together, hoping it will suffice for the time being. When Walter attempts to merge his servers into one slightly larger server, he misconfigured a few components resulting in downtime for his entire staff. Not only has he wasted his own time, but now he is experiencing the most expensive segment of downtime he has ever experienced.
Jesse, on the other side of town, also is experiencing extraordinary growth. Jesse however, makes a simple phone call to his managed service provider. He is connected to a professional, who advises Jesse on server options that will sufficiently support his growing business. His managed service provider not only points him in the right direction, but also comes on site to install this new technology. Jesse knows he isn't a tech know-it-all, so he leaves deployment of servers to the professionals. His business is ready for increased data storage that same week he decided it was time to expand.
Workstations
Your business' employees are only capable of what their technology can handle. When it comes time to upgrade or add additional workstations, there are a few options one can take. Let's see how our two business owners handle these situations.
Walter, who is an impulse spur of the moment shopper, sees what he believes is a fantastic deal on eBay. He decides that these second-hand computers will be able to handle all of his employee's programs without issue. However, upon arrival Walter notices that his computers are missing a few components. It turns out that the eBay listing was actually for five home-made computers that the builder was never able to get to operate properly, rather than complete working PCs. Overlooking the description just set him back a large amount of money, and the computer repair shop charges nearly as much as a brand new PC would have.
Jesse, has a few empty desks he would like to fill with capable computers as well as a few new employees. He reaches out to his managed service provider to discuss which computer might fit the needs of his business. The professionals are able to use their connections to get Jesse a fantastic deal, and most importantly, the purchase of the computers comes with free installation.
Software as a Service
What good would a computer be without the necessary software? Businesses should be utilizing the latest and greatest software. There are a few different approaches a business owner can take to procure the necessary software to boost productivity within the office.
Walter knows that software can be expensive, so he decides to torrent a few versions hoping that he doesn't get caught. Unfortunately, however, Walter is exposed as a fraud and his business is the center of attention for all things media. His business suffers massively, and he wishes he had spent a fortune on the software instead.
Jesse too knows how expensive software can be. Unlike Walter, he once again leans on his managed service provider. They offer what is known as software-as-a-service. This service gives you all the latest and greatest software, for a low monthly cost. It's like renting a tool, as opposed to buying it outright. Not only does this tool come with free installation as well as support, but it doesn't set Jesse back a large sum of money. He is able to give his employees all of the programs they need to proficiently do their jobs.
Which Experience Sounds More Enjoyable?
If you had a choice to be Jesse or Walter, which would you choose? Managed services truly offer support for all of your business needs. If you would like to learn more, reach out to our professionals by calling NuTech Services at 810.230.9455 today!