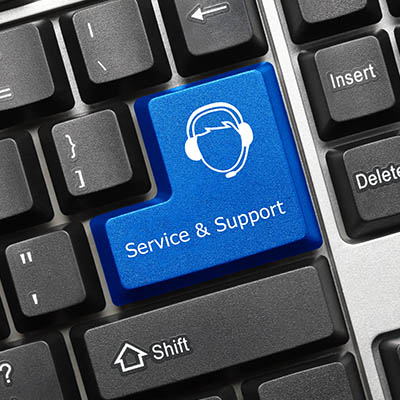 Old-school business information technology support isn't necessarily wrong, but it most definitely isn't cheap nor efficient. IT support strategies are developing in ways that some time ago, would have thought to be unheard of. Your business no longer needs a full on-site staff designated to maintaining network security or updating software. In part two of our five-part series, we discuss how your business can have the support it needs through managed services.
MSP Support
The Managed Service Provider (MSP) provide an experience unlike traditional service providers' methodology. Let's take a look at two scenarios:
Tom is emailing his boss in regard to a company project when all of a sudden his software closes. Tom tries to re-open his email, resulting in well, no result. Tom, frustrated at his email software, spam clicks the application which causes his entire computer to freeze. He has to ask his neighbor to contact their IT department for him. Unfortunately, they are out for lunch which results in a massive amount of downtime for not only Tom but for the business itself.
Jerry, who works for a business on the other side of town, is working on a project when he too is experiencing technical difficulties. Jerry has been working on a new business logo in his graphic design software. While opening his file, he is prompted with a message informing him that his software license is not valid. Jerry wastes no time in creating a ticket with his managed service provider. Within minutes, a technician remotes into Jerry's computer, reconciling the issue at hand. Jerry is up and working in a timely manner.
Time is money, so why not save yourself time with managed services?
Onsite Support Services
Managed service providers leverage remote support simply because of how efficient it is. It doesn't make sense for a technician to come all the way out to your business to resolve an issue that could have been resolved at their own office. However, when a situation occurs where a technician is actually required to be present, managed service providers have trained staff ready to be dispatched.
When something goes wrong, IT support needs to be present. It isn't cost effective to have IT support present when your infrastructure is operating as it should.
Keep Business Moving Forward
Time is a business' most scarce resource, so why waste any of it? Every moment is valuable, so you can't afford to sit idle waiting for IT to return back from lunch or wait for them to have a free moment. To ensure you get the most out of every second, NuTech Services offers managed services which can greatly benefit your business.
This is far from the end when discussing the benefits of managed services. Return back to our blog page to read part three of this series. If you would like to discuss additional support options offered with managed IT services, give us a call at 810.230.9455.