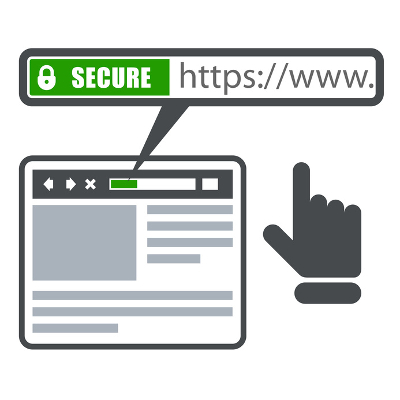 It would be an understatement to say that security, particularly encryption, is important while browsing the web. Though it was only recently that encryption became a major pain point for government regulation, encryption has been around for a very long time. The average user can get a taste of online encryption through the average website security certificate.
Hypertext Transfer Protocol, with an S on the end for "security," is designed to protect a website visitor's privacy by encrypting information sent from the website to a receiving server. Ordinarily, the connection wouldn't be private, so data can be accessed while it's in transit. This is why HTTPS is commonly used on pages that require sensitive credentials, like passwords, usernames, credit card numbers, Social Security numbers, and so on. For example, banking institutions and other accounts that are linked to financial credentials (like any payment pages on websites) need to be using a security certificate to guarantee the user's security.
One good way of describing online encryption is like a pipe. A normal HTTP connection is like a transparent pipe that you can see through. Hackers can collect data while it's in transit because the pipe is see-through. Now, imagine the same pipe, only with an opaque hue to it. You can still see the insides, but they're hidden and jumbled to the point where you can't get a clear image. This is what it's like for hackers to see encrypted data; they may have stolen it, but it's locked down and indecipherable, making it essentially worthless.
The main thing that the average business owner must understand about HTTPS and online encryption is that you need to drill best practices of handling data into your employees as early and as often as possible. Before entering sensitive information into any website, be sure to look for the following abnormalities:
A lack of a security certificate: Before you enter any information into a website, make sure that it's protected by a security certificate. You can verify that a website is secure by clicking on the green padlock icon next to the URL's name in the address bar. It's important to keep in mind that, while SSL and TLS might largely seem like the same thing, SSL is an antiquated security protocol that, thanks to vulnerabilities like POODLE (a man-in-the-middle exploit), could be dangerous.
Suspicious URLs or domain names: Sometimes hackers will create a site that looks exactly like a banking institution's website, and use it to steal credentials. They will use sneaky tactics to make you think that what you're looking at is the real deal, but look for out-of-place letters, numbers, or symbols in the domain before thinking you're in the clear. Basically, the site that you're on should be the institution's official site. If something looks out of the ordinary, contact the organization through the information that you have on file.
For more great tips and tricks on how to stay safe online, be sure to contact NuTech Services at 810.230.9455.