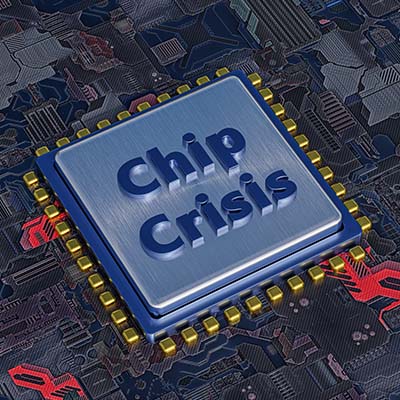 The microprocessor shortage that is affecting businesses all over the world is about to get worse before it gets better. Ukraine currently produces between 45-to-54 percent of the world's semiconductor-grade neon, a critical component for the lasers used to make microchips. With Russia invading the sovereign nation, two of the largest neon-refinement companies, Ingas and Cryoin have halted production, leaving an already massively short market in dire straits.
The work stoppage has created some uncertainty over the worldwide output of microchips, a major problem as demand for smartphones and other devices that require chips has never been higher, not to mention that supply chain issues still linger from the ongoing COVID-19 pandemic.
For the past 18 months, many products including computers, smartphones, cars, and more have seen their prices rise as manufacturers try to navigate a shortage of microprocessors. The shuttering of two of the largest neon manufacturers figures to exacerbate these problems substantially.
Fortunately, many of the major chip manufacturers keep a fair amount of neon stockpiled, but as the Russian-Ukrainian conflict drags on, you could see major shortages in new microchip-run devices and products, as well as an increase in price as demand continues to grow. Ironically, the Ukrainian neon market is a byproduct of Russian steel manufacturing, so any hope that the situation will be resolved before the end of the conflict is unlikely.
This isn't the first time that we've seen the neon market interrupted by Russian violence. In 2014, Russia annexed the Crimean peninsula, then a part of Ukraine. That situation led neon prices to rise as much as 600 percent, resulting in a steady increase of prices of consumer goods that utilize this extremely rare resource.
Some of the largest chip manufacturers have made arrangements with distributors to acquire the material, but smaller manufacturers will have a very hard time sustaining operations if the conflict isn't resolved soon. If the neon production stoppage continues, industries and governments could initiate their own neon production, but experts suggest that it could take anywhere from 18 months to two years to ramp up and will cost billions of dollars, a situation most entities would like to avoid if they think that the current conflict is only a temporary one.
For NuTech Services, we have had to change the way in which we go about technology procurement, and will adjust further if warranted by this obstruction in the market. We still strive to get our clients the technology they need to move their business forward. If you have any questions about our ability to procure the hardware you need to run your business, call us today at 810.230.9455.