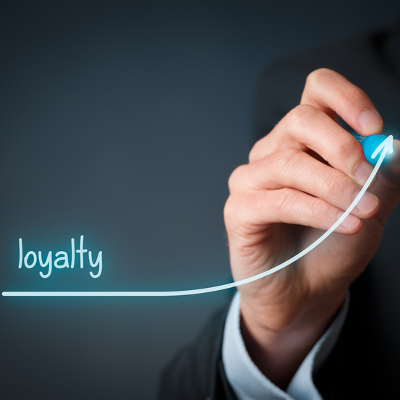 When you're emotionally invested in something, there's a better chance that you will enjoy it and find reason to do it. This is why marketers always attempt to use a good old tug-at-the-heartstrings tactic, as they know that if they can get their audience invested on an emotional level, they'll be more willing to take the dive and try something new. The same tactic can be used to turn good employees into great employees.
Dr. John Fleming of Gallup conducted a survey that shows as much. He suspected that customer loyalty to a specific brand, product, person, or company was the result of an emotional attachment. To go the extra distance and get someone from being satisfied to loyal, the same general formula can be applied. According to Jay Forte of REWORK, the formula works like this:
If we don't get it right, we create a dissatisfied customer. These customers don't return.
If we get it right (deliver the service or product as expected), then we create a satisfied customer. These customers may return.
If we get it right and do something more (something that creates an emotional connection), then we create a loyal customer. These customers not only return, but they become brand evangelists.
If you consider why you're loyal to the brands that you are, this makes a whole lot of sense. The formula predicts that this "conversion" from being a normal customer to a loyal customer is the result of getting more than what was expected from a brand in the first place. In other words, exceeding expectations is the key to taking satisfied customers and turning them into loyal, lifelong customers.
Now, let's return to the original question; how can you turn a normal employee who is satisfied with their role in your organization, into a driven worker who wants to help your business succeed not just for its own sake, but for their own. One way you can bridge this emotional connection is by providing your employees with not just working technology, but top-notch technology.
Not getting it right: Imagine that you are an employee at a growing organization who is stuck using a lackluster workstation prone to freezing. You would quickly grow frustrated and imagine that management doesn't care that your job performance depends on their technology working properly.
Getting it right: Now imagine that you've been given technology that works properly and keeps downtime to a minimum. Your major points of contention are taken care so you can perform your job adequately. These types of scenarios might allow for good work, but certainly not exceptional work.
Exceeding expectations: What if you were not only provided with working technology, but management also listened to your preferences and made sure that everyone was using technology that they were comfortable with? What if employees could use their own devices for work purposes? For many users, this is what is meant by going above and beyond.
What it comes down to is providing employees a good reason to stick around, as it would be a shame for good employees to leave if management can't offer them emotional investment in their work. Similarly, it would be a shame if your technology were to break down if you don't make time to take care of it. This is something that you don't have to worry about; or, rather, you shouldn't have to. After all, NuTech Services is here to help.
We believe that if we can provide great IT support, we can help your business improve and exceed even your own expectations. To learn more, reach out to us at 810.230.9455.