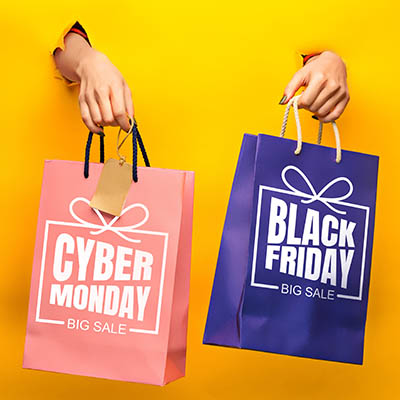 The holidays are rapidly approaching and each year people position themselves to get the best deals they can on all the potential gifts, whether they are gifts to themselves, or to others. Like many other years, bargain shoppers wake up from their tryptophan naps, bundle up, and head out to try and score the best deals they can. Today, we thought we'd talk a little about Black Friday and Cyber Monday and why they are great to get the technology-lover on your shopping list the products they'll love this holiday season.
Black Friday
Black Friday is the day after Thanksgiving and has been the busiest shopping day in the United States for 15 years. Nowadays, most retail stores not only extend their Black Friday deals starting on Thanksgiving (or stay open to start at midnight on the day after), they also give consumers a fair bit of warning of what will be available so that people can plan their shopping experience.
Cyber Monday
Starting years later, Cyber Monday is basically an extension of Black Friday that takes place online the following Monday. Since a lot of holiday shopping is completely online these days, Cyber Monday started at shop.com in 2005, but has grown substantially each year since. In 2020, as the in-person retail economy reeled from the COVID-19 pandemic, Cyber Monday was the largest retail day in history, netting close to $11 billion.
2021 Extends Holiday Shopping
In 2021, the lingering supply chain issues caused by the COVID-19 pandemic have caused many retail chains to not only alter their plans for 2021 holiday sales, but they have also extended a lot of their deals online, effectively making Cyber Monday, Cyber-End-of-November. Most retailers are doing what they can to make sure that consumers have the opportunity to get deals to check the people off their holiday shopping lists.
Technology is Front and Center
Technology is typically viewed as a great gift and in 2021 there is more tech to choose from than ever before. Some of the most popular gifts that you will see on sale after Thanksgiving in the United States include:
Amazon Fire Stick 4K with Alexa Voice Remote
The newest iteration of the popular HDMI streaming media dongle features voice controls through Alexa and is 4K-capable. Starting at $25.
Apple AirPods (Gen 2)
Apple's popular wireless earbuds. Starting at $89.
Samsung Chromebook 4
With an 11.6-inch screen, this laptop is a good value for people looking for a reliable laptop for everyday tasks. Starting at $129.
Facebook Portal Go and Portal+
The Portal Go and Portal+ are video chat interfaces that integrate with Facebook Messenger. Starting at $199.99.
Of course, this isn't everything, but if you are in the market for computer hardware and electronics, late November will be a good time to check for deals!
What's on your holiday list? Let us know in the comments, and make sure you practice safe browsing habits while shopping online!