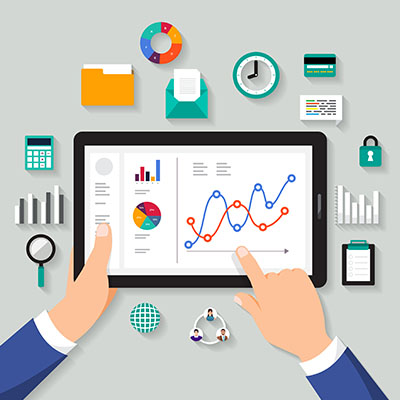 Would you describe your business as "productive?" Without setting a specific standard for productivity, you can't answer this question. A basic way to measure productivity for your business is how effectively your employees use the tools at their disposal in conjunction with each individual's capacity to get work done. Let's take a look at some technology built specifically for your employees to be more productive throughout the workday.
The Different Levels of Business Technology
The technology solutions your business implements all have various uses that directly tie into its levels of productivity. Here are three notable categories for any kind of digital transformation you implement for your business:
Operational – This includes all business management applications, productivity, and communications.
Supply Chain – This technology improves business through data collection based on your business' procurement, processing, and distribution processes.
Digital Platforms – This technology is implemented to promote or sell goods and services and provides a lot of actionable information.
Let's examine how each of these contributes to a productive business environment.
Operational Technology
Your workforce will be more productive if they are using effective technology. You'll likely have to add new technology to your infrastructure in the process, and with careful planning and consideration, you can use it to improve productivity. Solutions like customer relationship management (CRM) software can help you keep track of tasks, time, progress, and customer interactions, while communication tools like VoIP, email, and video conferencing all go a long way to help your team collaborate. Productivity tools like Microsoft Office and Google Workspace can also provide exceptional productivity apps with built-in communication tools. There are even specialized collaboration suites that you can use to give your team all the tools they need in one effective package.
Supply Chain Technology
Your business' supply chain will undoubtedly remain an important part of its operations and productivity. Whether your organization provides products or components or not, there is no question that your company is at the mercy of the supply chain—even when it comes to procuring new equipment for your own business' operational needs. Technology brings transparency to the supply chain, whether it's through inventory management, Internet of Things devices, shipping and management of goods, etc. These interconnected systems give businesses the ability to be more productive and transparent with their resources.
Digital Platform Technology
Doing business involves an online presence in most, if not all circumstances. Most businesses have implemented online applications that allow their team and their customers to do business more efficiently, whether it's through a CRM, file sharing, digital collaboration platforms, or even something as simple as a webpage or social media presence. All of these digital platforms give businesses the ability to be more productive, provided they are used appropriately.
How does your business handle technology solutions? Could you use a hand with the management and upkeep of your IT systems? Outsourcing this responsibility is one big way you can improve operations and productivity for your organization. To learn more, contact us today at 810.230.9455.