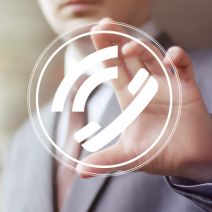 Proper communication is an imperative part of doing business, and nothing improves this aspect of your company better than a telecommunication system of some sort. Some businesses rely on their legacy telephone system for interoffice communication, but this can be both difficult and expensive to maintain.
A VoIP solution, or Voice over Internet Protocol, is a great way to lose your old phone system and push your business toward a more modern office setting. It takes advantage of your Internet connection to transmit your voice to the recipient, rather than a landline telephone connection. This helps you avoid long distance telephone bills that might build up over time, blasting a hole in your budget.
VoIP might be convenient and easy to integrate, but you need to carefully consider the demands of such a network before committing to it. One thing to pay particular attention to is your bandwidth. Can it sustain the heavy use that VoIP demands? If it can't, you might experience connectivity issues and poor call quality, both of which can hamper your ability to contact and communicate with others.
If you're serious about improving communication systems in your office, you should consider switching to VoIP. There are many different kinds of VoIP systems, but the most common choice you'll have to make is whether or not you want to host your own VoIP system in-house, or if you'd rather outsource the responsibility to a managed service provider like NuTech Services.
The Difference is Real
By allowing an external party to host your VoIP solution, you'll receive plenty of benefits. Essentially, you're taking this responsibility and allowing someone else to do it. This means that the third party is monitoring and maintaining your VoIP server for you, which is one less burden you have to deal with. NuTech Services can host your VoIP server off-site and out of your hair, which means you have less on your plate. This makes hosted VoIP well worth the investment.
Because of this shift in responsibility, you don't need to worry about a thing. We handle the implementation and work with you every step of the way. However, it's important to note that any outsourcing endeavor requires a certain level of trust. Unless you're ready to let go of the reigns, hosted VoIP might not be your cup of tea.
What Should You Look For?
As with any outsourcing project, you want to make sure you find quality professionals who know what they're doing when looking for someone to host your VoIP. Reliability is an important trait to look for. Without a reliable host, your VoIP system will be down more often than it's up. You also need to make sure you've found someone with a history of excellence, particularly in the managed services industry.
This is where NuTech Services truly excels at providing hosted VoIP services. Our services are flexible enough to provide you with just what you need, and we can meet the standards you require for maximum efficiency. Just give us a call at 810.230.9455 for more information.