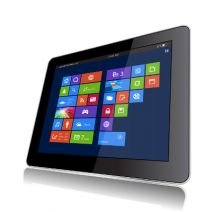 Just like the personal computer before it, smartphones have become essential pieces of technology that are practically required in order to complete mission-critical tasks. However, the primary advantage that these devices have over the popular PC is that they're vastly more mobile and designed for use on the go. Are users able to increase productivity by using Windows tablets?
Unlike Apple, who produces hardware with exclusive software installed on it, Microsoft rarely produces actual Windows-based hardware. As a matter of fact, one of Microsoft's best marketing strategies was to concentrate almost exclusively on producing software solutions, like operating systems and productivity applications. These pieces of software are then partnered with hardware manufacturers like Dell, Lenovo, and HP, who are deemed original equipment manufacturers (OEMs) for the purpose of profiting off of the software distribution. Thanks to this ingenuity, over 95 percent of all desktop and laptop PCs use the Windows operating system.
Other software manufacturers, like Google and Apple, have found success in the mobile market, with Android and iOS respectively. This prompted Microsoft's 2012 entry into the mobile race with their Surface line of tablets. Using the metro user interface similar to the one found in Windows 8, the original idea was to enhance mobile work capabilities. But, as everyone in the business world knows, nothing goes as smoothly as we might expect it to. Windows 8 RT was incapable of supporting legacy software, and there was a significant lack of mobile applications that could be run on the original Surface tablet. The two combined were basically a death blow to the fledgeling tablet series, which made mobile users consider devices other than the new Windows-based tablets.
This all changed when Microsoft released their first tablet with a full version of the Windows 8 operating system: the Surface Pro. Because it ran a complete version of Windows 8, any piece of software that would run on a Windows PC could, in theory, be used on the tablet, so long as the software meets the specifications of the device. Since that fateful day, Microsoft and its partners have continued to release tablets that have these capabilities. Despite the lack of applications, this got users interested in the new line of Windows Surface tablets, and provided Microsoft a niche in the competitive mobile computing market.
It took yet another update to make the Surface tablets viable for business. The first service pack, titled Windows 8.1, enhanced the integrity of Windows 8 on tablets with increased security and networking capabilities. The update added BYOD enhancements, improvements to device mobility (VPN, mobile hotspot integration), and security improvements (remote management, enhanced encryption). All of these options are practically essential in today's business environment, so this update made business owners finally take notice in the mobile Windows 8.1 platform.
After years of toil and hard work, Microsoft's Surface tablets have finally caught up with the application development and security features that made Android and iOS so popular in the mobile sector. Yet, due to Microsoft dragging their heels on these imperative features, many OEMs haven't developed or pushed mobile devices that run Windows 8.1. Despite its current lack of popularity, Windows 8.1 tablets hold a unique advantage in terms of building a modern office.
In part two, we will provide specific examples and suggest devices that can work to securely increase your company's mobility; but in the meantime, why not share some of your thoughts in the comments?