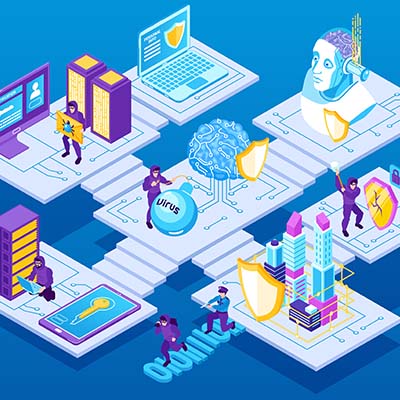 We live in a world that is constantly connected, be it through a wireless connection or through your smartphone's mobile data. This makes it especially important to practice appropriate cybersecurity practices while you're connected to a wireless network. Let's go over some wireless cybersecurity best practices you can keep in mind when using your wireless technology.
Change Default Router Passwords
Generally speaking, many users will keep the same network names and passwords for their wireless networks, something which can be dangerous and exploited by hackers. If a hacker knows the device type, they can look up the default passwords online, making it all the more likely they can compromise the network. Be sure to change your network names and passwords so they are as best protected as possible.
Restrict Access to Your Networks or Set Up Guest Networks
Don't let just anyone use your wireless network! You should restrict access to your network to only employees or on an as-needed basis. If you must give guests access to your network, set up a separate wireless network for them to do so; this gives you greater control and privacy on the network where most of your data is moving.
Patch your Access Points
Any devices accessing your data over your wireless network should be kept up-to-date and secured. This means making sure they are all equipped with appropriate security measures themselves, and while it can be challenging to keep up with patches and updates, it's something that must be done to maintain optimal security. For example, you need to ensure all computers, including laptops and desktops, as well as smartphones and other mobile devices, are kept secure while accessing your company's wireless network.
Implement Comprehensive Security Measures
The same network security measures used for your in-house network apply to your wireless network. This means implementing antivirus, antimalware, and firewalls to keep threats off your network and promptly eliminate those that do manage to make their way through.
Use a Virtual Private Network
A VPN can help by encrypting data sent to and received by your wireless network, protecting it from unauthorized onlookers. Essentially, it can no longer be spied on or stolen, as it will be encrypted; without the decryption key, it won't be useful to anyone.
Let Us Help!
NuTech Services can help to equip your business with all of the technology it needs to remain safe and secure while off the safety of your in-house network. Whether it's training your employees on security best practices or setting up powerful mobile security solutions, we've got you covered; just reach out to us at 810.230.9455.