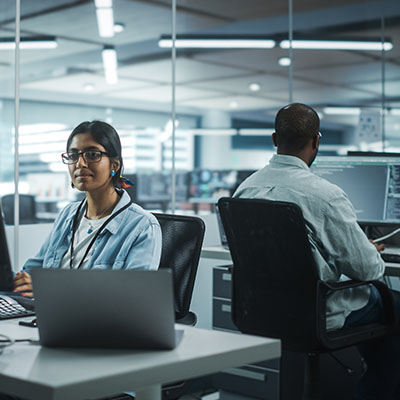 Let me ask you a question: if you had a toilet that needed repairing, would you rather trust a plumber with a few decades of experience or a toddler that had just (mostly) learned how to use the toilet?
That's what we thought… but when it comes to your business' technology, finding someone with experience can be a bit more challenging. Let's discuss the way that the right IT management produces improved business outcomes.
Why Modern IT is So Valuable
Regardless of a business' size, the right technology can drive its performance ahead by leaps and bounds, particularly in terms of productivity and efficiency. However, with so many options available today, determining which of them will actually provide value to your business isn't always all that simple. This is particularly the case when you consider that the same technology won't work the same way for every business.
NuTech Services and our team of professional consultants work closely with businesses in Michigan so they have the IT that will help propel their operations forward most effectively. This goes beyond the concept of just getting computers set up. It also entails the process of incorporating the IT that will improve the business' capabilities through enhanced productivity, process automation, and collaboration.
Provided that a business' IT is correctly implemented and supported as it needs to be, the value it can provide is practically unlimited. This is what makes it so important to have access to technicians with an appreciation for the fundamentals of technology maintenance and its impact on a business' operations.
A Technician's Experience Matters
The more experience that an IT technician has, the better they are able to shape a business' technology to provide it with the maximum amount of value and utility. Likewise, someone without this experience will likely find it more difficult to identify what is needed to accomplish these goals—particularly in terms of technology investment and procurement. Without having concrete goals outlined and the knowledge of how to go about accomplishing them, a business can find itself stagnating.
Not only this, but since these investments need to be made thoughtfully and diligently, bringing in an experienced perspective can bring back substantial dividends. By creating a productive and consistent working environment, your operations will be in a better position to succeed.
There are many, many considerations that a modern business needs to weigh out in regards to its IT—whether or not remote work is utilized, are certain systems required to have additional security or transparency, is the robust IT infrastructure you need to maintain attainable? Our consultants can help you construct an effective and reliable business environment that helps you create an improved workflow.
What Experience are You Seeking from Support?
Naturally, acquiring the right technology is only part of the equation. It is also important for you to have the means to keep this technology properly maintained, supported, and managed in general. This kind of support is—in short—critical to a quality infrastructure, requiring experienced technicians with the knowledge and skill to keep your IT in operation.
Threats are more prevalent than ever before, and that's without even taking the odd downtime incident or user error into account. Again, this means that having an experienced resource to turn to has also become more important. Now, you have a few options—hiring IT staff internally, for one, but this can be incredibly expensive. Hiring a managed service provider is often a more cost-effective option for businesses, with the proactive maintenance we offer helping to avoid downtime and maintain your productivity.
Business IT can easily become quite complicated, but we can help simplify it for you. Call us today at 810.230.9455 to talk to us about what we can do for your operations.