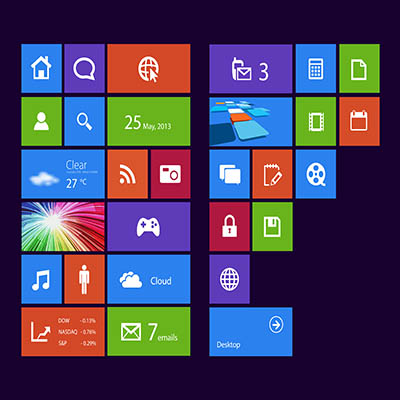 With Windows 11 releasing sometime this year, most users are looking to upgrade to hardware that actually supports it, but today we are instead focusing on upgrading away from one of the more controversial of Microsoft's recent operating systems, Windows 8.1. With its end-of-life date creeping up in January 2023, it's never too early to start thinking about how your company will move away from this operating system toward a supported one.
Windows 8.1 is Only Kind of Windows 8
Windows 8 first released in August of 2012, and it was first described as "metro" in an attempt to appeal to the mobile market. Windows 8 was specifically designed to work with touchscreen devices and PCs, but its initial rollout caused a bit of confusion amongst the user base. Many people simply stuck to Windows 7, as they were more used to the traditional Windows operating system. Microsoft grew frustrated with the fair amount of criticism the OS received and released a huge update to the OS in 2013 that restored many of the features that people loved about prior Windows operating systems, including the coveted Start menu. This update was called Windows 8.1 and became the working version of Windows 8 for the better part of the past decade.
The initial version of Windows 8 had its end-of-support date set for January 12, 2016, ending all support for that version of the operating system by that date. Windows 8.1, however, was much more popular, thus Microsoft set an end-of-life date for January 2023. Windows 10 launched two years after the 8.1 update, meaning that most people took advantage of the free upgrade, leaving only about 3.5 percent of all PCs running Windows 8.1. If this is the first you are hearing about the end-of-life event for Windows 8.1, this is probably why—it's not like the Windows 7 end-of-life event, where the install base was much larger.
What You Need to Know
If you currently run 8.1 on your device, you should consider upgrading to Windows 10 now. On the other hand, if you think your hardware can take it, you could wait to upgrade to Windows 11 as it rolls out later this year into next. Either way, however, you need to start thinking about it now, as that January 2023 end-of-life event for Windows 8.1 will creep up on you before you know it. Waiting any longer after that will leave your technology susceptible to security risks.
Why Is It Important to Only Use Supported Software?
Each new version of the Windows operating system adds additional security updates and features that are designed to tackle the problems associated with today's computing environment. If you don't upgrade your software on a regular basis, your organization will fall behind and eventually be put at risk due to the overwhelming rate at which security threats grow. Any business that utilizes sensitive information (read: all businesses, basically) must make it a priority that all software used by the company is supported by the software developer.
The IT professionals at NuTech Services know what it takes to keep your software as up-to-date and secured as possible. We can even help your company make the upgrade to a supported operating system or utilize legacy applications without a hitch. To learn more, reach out to us at 810.230.9455.