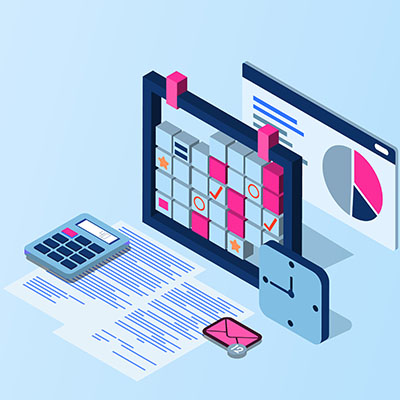 Business can get stressful. Not only for the people tasked with managing an organization, but for the workforce as a whole. Fortunately, businesses are identifying that technology can go a long way toward making all this work less stressful. Let's go through some of the innovative technology that is being used to keep employees engaged.
Before we start it has to be said that without proper training, most technology will be as much of a headache for users as not having any at all. That's why the IT professionals at Omega Technical Solutions make it a point to not only get the technology that your company needs in place, we can help you develop the training regimens crucial to get the rapid ROI you are looking for from any investment.
Communications
Improving your business' communications can go a long way toward building an efficient business. Every business needs to employ some degree of communications. The smallest business needs a telephone number and management software to help them manage the scheduling, time entries, sales, and other tasks. These basic tools offer communications options that are often in real time. These include automated schedule reminders, time mandates, task lists, and client interactions.
With improved communication, collaboration becomes simpler as well. Today, there are lots of collaboration tools that serve to automate rote operational tasks while also providing fast access to a lot of tools that can help spur on productivity. These include video conferencing, project management, and other tools designed specifically to move business along faster.
Security Balance
By now, you know that keeping your business secure from security threats is a teamwide effort. What you may not understand is that it has to be a balance between robust security tactics and solutions and attempts to shield your staff from near-constant exposure to that security. You see, while there are people in your organization that completely understand why they are inundated with security prompts and authentication, many won't and will get "fatigued" by the near ceaseless focus on organizational security. This security fatigue can actually make your organization less secure as the more people are confronted with attempts to maintain security, the less they will consider these things important.
In order to keep your employees engaged in your security policies, you need to balance the use of tactics with robust security tools designed to work in the background. Now, we are definitely proponents of doing whatever you need to do to keep your organization's data safe, but there are ways to keep your employees from having to constantly lose focus because of organizational security.
Workplace Flexibility
When speaking of workplace flexibility, it covers both the strategies you use as far as remote working as well as the tools you utilize while maintaining an office. For those businesses that have staff that can work from home, but don't really like them to, it may be time to look at the productivity metrics without bias. The main argument out there against remote work is that the business loses control over the employees. Managers at these businesses don't believe that their staff works as diligently while out of the office, and they worry that the company culture they work hard to cultivate will go by the wayside.
Most studies suggest that while employees may be more distracted working from home, they also are much more productive when they do work. In fact, one study found that overall, people work more and are up to 47% more productive working from home than they are in a traditional office environment. Also, there is nothing to say that you can't implement a hybrid work strategy that has your staff in the office on certain days and able to work remotely on others. Today's employees are more cognizant of their work/life balance than at any other time in western history, so remote work is also a solid retention strategy.
If you do require in-house work, you need to have strategies in place that allow workers the flexibility to work the way they need to be most productive. This often means having a dynamic Wi-Fi network in place that allows people to move around the office and collaborate with their contemporaries. Since most employees now carry smartphones, integrating tools that can be accessed from mobile devices is also a solid strategy to help keep their staff engaged.
In order for your company to function the way you'd like it to, you have to consider adjusting to the ways your staff can be most productive. The IT experts at NuTech Services can help you strategize policies that can maximize operational productivity and procure technologies designed to build the most productive workforce. Give us a call today at 810.230.9455.