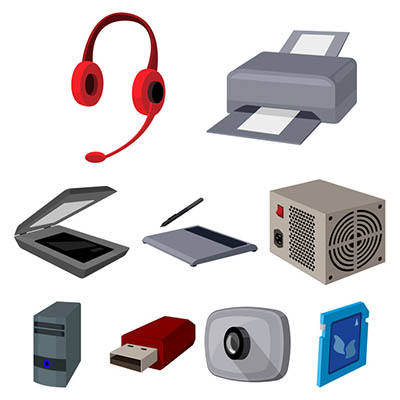 We make a big deal about how important it is to take care of your computers. Whether that be routinely cleaning your PC, weeding through the unnecessary information stored on them, or utilizing a mobile device's built-in security features to keep mobile malware from making the management of your company–wide mobile solution more difficult. Much of the time, however, your organization's IT works as designed, creating no issues whatsoever. In those moments you begin to pay more attention to your accessories.
For this week's tech term, we talk a little bit about accessories. In the past, accessories were mandatory to simply use any computer, but with the advent and prevalent use of smartphones and tablets, that isn't always the case today. They do, however still make up a huge portion of the cost to businesses and individuals when purchasing a computer. Let's take a look at the computer accessory market.
When looking to define what a computer accessory is, you'd have no trouble finding multiple definitions. On one hand, many computer accessories attach themselves to a computer, while others are there to provide additional functionality, security, or support. We'll break them into two different groups: basic and advanced.
Basic Computer Accessories
Basic computer accessories are accessories that are typically less expensive, and don't usually come with their own power supplies, although wireless technology has somewhat changed this. There are all types of simple accessories that include:
Cables and Wires
Keyboards and Mice
Speakers and Microphones
Webcams
Headsets
Flash Drives
Adapters
Bags and Cases
Advanced Computer Accessories
Advanced computer accessories typically have a higher price tag and come with their own power supply. Also called peripherals, these products typically perform advanced tasks or have more stand-alone value than basic computer accessories. Some include:
Printers
Scanners
Charging Stations
Digital Signage
External Storage
Power Protection
Essentially, every product you can buy beside the computer and the monitors is considered an accessory. Even peripherals that come with their own power supply are technically accessories for a computer (since you can't use them without a CPU).
NuTech Services's knowledgeable IT technicians are committed to providing useful technology support services to organizations like yours. To find out how we can help your organization best use its technology call us today at 810.230.9455.