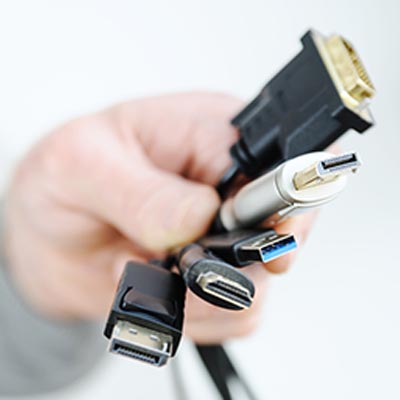 One thing that all offices gradually accumulate over time is a surplus of cables. Each device you have is compatible with a specific cable, but identifying them all can be challenging. In today's blog article, we'll outline some of the common cable types and what you might need them for.
USB Cable Types
The Universal Serial Bus cable connection is perhaps the most common. Its accessories and peripherals utilize the USB port, which is seen on most devices. However, there are many different types of USB technology, each of which are supported by various connections.

Type A connections support USB 1.0, 2.0, 3.0, and 3.1, with transmit speeds ranging from 1.5 MB/s to 1.25 GB/s. These connections are the most common ones found on at least one end of every USB cable.

Type B connections also support USB 1.0, 2.0, 3.0, and 3.1. These were once used for connecting a printer or similar device to a computer, but they are being slowly phased out.


Mini and Micro both support USB 2.0, with mini USB connections being used for some older devices. Those that don't use mini USB connections have been replaced by Micro-USB, and even those are being phased out for Type C connections.

Type C connections, also sometimes referred to as USB-C, support USB 3.1, 3.2, and the upcoming USB 4 standard.
It's likely that the future of USB technology is USB-C taking over, mainly due to the connection type and its backwards-compatibility, enabling much faster data transfers.
Display Cables
VGA Cables

The Video Graphics Array cable is less popular these days due to its analog video signal being replaced by digital. Even so, there is likely to be a VGA port on your video card or display.
DVI Cables

VGA cables were phased out during the turn of the century and replaced by Digital Visual Interface cables. DVI is known for having many different types, all of which have their own capabilities, but they have been replaced by modern display cable types at this point.
DisplayPort Cables

DisplayPort cables were introduced with the intention of replacing both VGA and DVI cables, as they are capable of transmitting both video and audio signals. There are many different kinds of DisplayPort out there, but the important thing to note is that they are compatible with each other. DisplayPort can also be used in conjunction with HDMI and USB if there is an adapter used. These days, DisplayPort is used to attach a monitor to another device.
HDMI Cables

High-Definition Multimedia Interface cables are used to send modern standard digital signals. Five different types of HDMI exist today, but it's most likely that you're familiar with Type A. You may have also seen Type C for digital cameras, or Type D for mobile devices.
Networking Cables
SATA

Serial Advanced Technology Attachment cables create a connection between a computer's motherboard and a storage device. These offer quick data transfer speeds compared to their predecessors, the Integrated Drive Electronics cable.
eSATA

eSATA cables are basically the same as SATA cables, only for external devices rather than internal components. These connections aren't as common anymore, as USB technology has grown so quickly that it has eclipsed their speed.
Ethernet

A local area network takes advantage of ethernet cables. These cables are those that connect to your modem, router, and computer. They are easy to distinguish from other cables, as they look quite similar to telephone cables from way back when.
We hope that we have cleared up the difference between some of the everyday cables, but honestly, managing them can be a pain. NuTech Services can help your business make heads and tails of the various cables your organization might need to manage. To learn more about what we can do for your business, reach out to us at 810.230.9455.