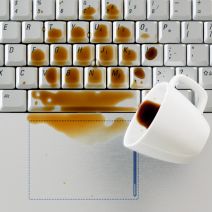 You know that you shouldn't keep a beverage near your computer, but how good are you at actually abiding by this best practice? Due to the busyness of our modern lives, it's likely that most office workers eat more meals at their computer than away from it. Inevitably, this will lead to a drink spilt on your keyboard, which can put you in a rather sticky situation.
When your keyboard takes an unintended plunge, what can you do about it?
First off, don't just sit there with your keyboard sopping wet and try typing into Google, "How to clean Mountain Dew off my keyboard." The liquid will only seep further into your keyboard, making it extremely difficult to type. Actually, a sugary substance like Mountain Dew will cause your keys to stick, which means that your Google Search query would actually look something like this:

Don't lollygag when faced with a liquid-on-your-keyboard crisis or you'll just make the problem worse. Instead, take immediate action by following these five steps:
Power Off Your Computer and Disconnect the Keyboard
By far, your computer is way more important than your keyboard (and quite possibly your outfit that also took a Mountain Dew bath). Therefore, as soon as you can, be sure to either disconnect your keyboard. Most modern keyboards are USB, so they can be unplugged with the computer on, but other keyboards use round connectors. Unplugging the round connectors while the PC is on could cause damage, so if you aren't sure just shut the PC down before disconnecting the keyboard. Act quickly, the liquid may seep into the keyboard's circuits and cause some problems (and not the good kind like we saw from Coca-cola's spilt-soda-on-computer scenario).
Flip the Keyboard Upside Down and Give it a Good Shaking
When you encounter a spill, your first instinct is to get up and grab a towel. Before you do that, flip your keyboard over and shake it. Basically, when dealing with a spill, you've got precious little time to locate a towel while the ill-fated beverage seeps deeper and deeper into your circuits.
Wipe Down Your Keyboard
After gravity has done its job and drained as much liquid as possible, now is the time to use a dry cloth to wipe down your mess. Do what you can to get in between the keys, but don't do anything drastic like apply too much force or pop off the keys, yet. For now, the goal is clean up, not detailing.
Let it Dry Overnight
Next, find a dry place to let your keyboard sit upside down overnight. When you come back to it the next day, look for any additional moisture that may be left and give it a wiping.
Check for Stickiness
Before plugging in your now-dry keyboard, press on every key to check for stickiness. This will most likely be the case if you split a sugary substance, like Mountain Dew. To clean out the stickiness, you'll have to remove the keys to really clean underneath. Computer Hope offers some solid advice on how to do this:
Removing a standard keyboard key is simple. Start by pressing down on the key in front of the key you want to remove and insert a flat object such as a car key… or a small flathead screwdriver below the key. Once below the key twist it or push down until the key pops off. If you want to remove more than one key, repeat this process until all keys are removed.
Once you've got your keys removed, using a tool like a Q-tip will really help with those small and hard-to-reach places, with both your keyboard and your ear canal.
Lastly, with your keyboard fully cleaned and dry, plug it in and give it a spin. If you were fast-acting enough to catch the mess, then you might have been able to save it. Although, if the spill was too great, then your keyboard might be toast and you'll have to replace it. You'll know for sure when you sit down with your cleaned keyboard and try it out.
We hope that you've found this week's tip helpful. For more great technology tips, subscribe to NuTech Services's blog and check back every week.