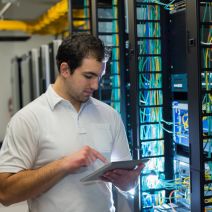 A growing company tends to experience a lot of IT pains. This is because growth usually goes hand-in-hand with an expanding IT infrastructure, and your in-house IT staff might not be able to keep up with the increased workload. This is especially painful if your budget isn't as flexible as you'd like. You decide that it's in your best interest to outsource your IT, but where should you start looking?
Outsourcing your IT comes with a lot of great benefits, and it should always be considered as a viable option. Compared to hiring a full-time team member, you save money in the long run by taking advantage of easily-budgetable payments. In addition to cost-efficiency, you also need to look for technology competency. Not all of the so-called professionals you meet will have the skills to back up their claims. The solution to finding the best of the best can be as easy as holding a "mock interview," of sorts with the prospective outsourced IT vendor.
Are They Up-to-Date in the Industry?
It's only natural that technology professionals keep up with the latest occurrences in the industry, and your prospective business partner should be no different. Are they keeping up with the latest security protocol and backup practices? Are they always trying to use the latest technologies to stay ahead of the competition? If they are, it shows a passion that can be leveraged for your benefit.
NuTech Services is one such business. We stay ahead by following reliable news feeds and staying aware of important findings and trends. We know what a reliable IT staff should concentrate on, and our strategies reflect these trends to help your company take full advantage of its technology.
How Do They Handle Difficult Tasks?
In IT, issues that aren't a technician's expertise frequently arise. This means that they might not be entirely comfortable dealing with a situation. How IT staff handle stressful situations like these can make or break their service. Do they research the problem? Do they strive to make clarity one of their biggest and best selling points?
They absolutely should, and NuTech Services knows this better than anyone else. We always work to find the best solution to a problem, even if we're unfamiliar with it. If it looks like a job that we can't help you with, we'll find someone from our list of trusted IT vendors who can assist you to the best of their ability. Their work is a reflection of our company, and since you trust us, you know you can trust them to perform their duties to both your expectations and our own.
How Do They Handle Hypothetical Situations?
Now that you've limited the number of applicants to those who know what they're doing, you can impose hypothetical situations onto your candidates to see who has a thought process similar to your own. This process is perhaps the most important part of hiring an outsourced IT agency. You want to make sure that they have solid business practices by seeing them in action for yourself.
At NuTech Services, you can see our prowess with your own eyes with a IT consultation. This can address any problems or questions you might have concerning your technology. We do our best to explain the problems to you, and make sure that you know all of your options before you commit to a particular solution.
These tips can help you locate a quality IT specialist, but why do so when you have NuTech Services readily available to help you out at this very moment? All you have to do is call 810.230.9455 to get started. We'll work with you to make sure your technology is working at maximum capacity.