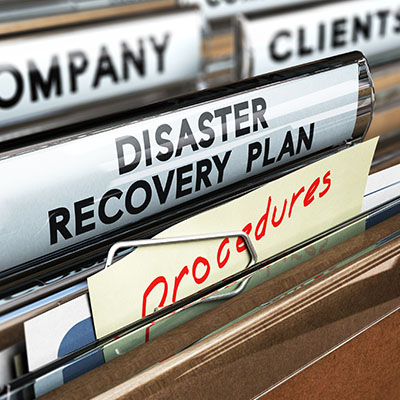 When your business experiences a significant disruption, a disaster recovery plan is critical to getting back to normal. Some disasters are the result of external threats, while others come about from internal problems with your company's operations. Here are some things you should consider when looking into potential disaster recovery solutions to help you get through a data disaster.
Disaster recovery, as far as IT is concerned, focuses on protecting your data and information systems, but it can also refer to the broad overarching strategy you use to keep your organization operational in difficult times. Companies today handle more data than ever before, and customers are much more cognizant of when companies don't appropriately manage or protect their data, so it's more important than ever to have a strategy in place to keep it safe and protected. Here are three things you should properly manage for your disaster recovery plan.
Planning is Imperative
First, we want to dispel the misconception that disaster recovery is a big, complicated process and strategy that needs to be handled before you take care of general, everyday business. This is not true; many small businesses can leverage a comprehensive data backup and recovery plan with relative ease, although larger organizations might require more details to be addressed, specifically how systems are to be recovered, as well as applications and working conditions.
It doesn't matter what type of company you are–there are certain aspects of data recovery that always need to be addressed. For example, you'll need to know how your backup system works, who is in charge of it, and what the responsible recovery point objective (RPO), or the amount of data you need to back up, is. Furthermore, knowing these details can dramatically reduce the time it takes to get back in business following a disaster to help you meet your specified recovery time objective (RTO).
Test Your DR
One major problem that organizations have with their disaster recovery processes is that they aren't routinely testing them. Nearly a quarter of businesses have never tested their disaster recovery plan, and considering the dire consequences of a failed data recovery, this should be a major cause for concern. You should test your platform regularly, whether it's once a month, once a quarter, or even once a year.
Testing your disaster recovery system can interfere with your business' operations and potentially even cut into productivity, depending on when it takes place. Whenever you test your systems, you're bound to find something wrong with it, so you'll find your DR strategy changing over time as you address these issues. If you can appropriately address these issues during the testing phase, you'll have a better chance when you actually need to seriously use your DR strategy.
The Human Element
While it might seem like your disaster recovery strategy is governed by your IT infrastructure, remember that your IT infrastructure is governed by people. You'll want your DR strategy to take human behavior into account. For example, if your company's location is compromised by a disaster, do you have the ability to get your business' employees access to the data they need to effectively do their jobs?
The COVID-19 pandemic made it that much more apparent, as organizations that did not have contingencies in place to handle the remote operations struggled to adjust to the new normal. Businesses that did not have the capital to implement the appropriate technologies and accommodations for remote employees had significant problems in the early days of the pandemic, many of which could have been prevented if they had ensured continuity through work-from-home strategies and other possibilities in the event your office is inoperable short or long term.
NuTech Services can help your business implement and test a business continuity solution. To learn more, reach out to us at 810.230.9455.