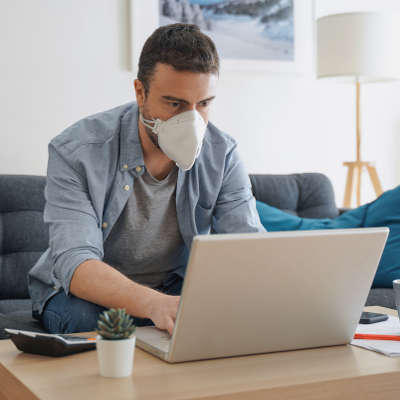 It is never a good situation when a widespread illness strikes. Not only does it impact many individuals on a personal level, the impacts reach to the businesses that employ them as well. As we deal with the current outbreak, it helps to keep in mind that there are various means out there to allow for a business' productivity to continue… even if its employees shouldn't be near one another.
Let's go over a few solutions that can assist your business' continuity in these testing times.
The Fear of Infection
The primary concern that comes from this specific variety of disaster is generally one of widespread infection, which makes it an uncomfortable prospect for people to congregate anywhere. This is especially true of the workplace, where papers and files were traditionally distributed (and redistributed) as work was done.
Naturally, this is the perfect storm for any illness to spread: materials being passed around, with many people together in a relatively enclosed space. With COVID-19, this is especially problematic, as the CDC believes that it is spread through respiratory droplets and close proximity to others. As a result, it is better to avoid this situation… but how could your business possibly cope with its entire staff being absent, due to either illness or preventative "social distancing?"
Fortunately, the technology exists today that allows you to see the best of both worlds.
Securely and Safely Working Remotely
Many common technologies today can be used to enable your employees to do the same tasks they would do in the office from the relative comfort and security of their own home. Let's go through some of these technologies and applications and review why they are valuable to a remote work policy.
Mobile devices – If your employees are going to work productively from home, they're going to need access to the proper tools to do it. Supply your staff with laptops or thin clients that permit them to bring their tools out of the office if need be.
VPN (Virtual Private Networking) – Of course, once your technology has been taken out of the security of the office, the data that it accesses can be put at risk. Utilizing a virtual private network can help decrease that risk greatly by shielding the data that is in transit.
Cloud solutions – Of course, in order to effectively work remotely, your data and applications need to be accessible to your team as they need them. Hosting these resources in the cloud enables your team to access them from wherever an Internet connection can be established on many different types of devices.
VoIP (Voice over Internet Protocol) – Communication is absolutely critical to business productivity, especially when it comes to remote resources. Without communication, you can't expect to accomplish much at all. Certain solutions, like VoIP, allow you and your team, to maintain this communication–again, from wherever an Internet connection can be maintained.
While productivity is crucial to your business' success, so is the well-being of your employees. Giving them the option to work remotely can help attend to both needs. For assistance with implementing the needed solutions, reach out to NuTech Services at 810.230.9455.