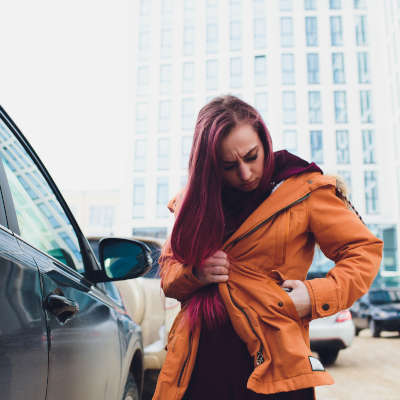 Imagine for a second you are out to a socially distant dinner date with the friends that you barely get to see. You wrap up dinner and say your goodbyes and when you get to your car you realize that you don't have your phone. COMPLETE PANIC! Your whole life is on your phone. Now imagine that when you went back to the restaurant to get your phone, it wasn't anywhere to be found. We'll talk you through how to proceed.
Use Google's Find My Device App to Find an Android Device
Android users have access to a feature called Google Find My Device, that you should definitely set up if you haven't already. You first need to install it from the Google Play Store.
Once the app is installed, it will ask you to log into your Google account. You will want to set up a strong and unique password just as you would with any other account. When asked, you will want to Allow Find My Device to access this device's location. Now you will be able to see where your phone is.
Using Apple's Find My iPhone to Locate Your Device
Apple provides a similar service to iPhone users. You will need to enable Find My iPhone. Find My iPhone is a built-in service that comes as a part of iCloud. As expected, it allows users to track the whereabouts of a lost or stolen device. If you suspect that your iPhone has been stolen, you probably shouldn't try and go to the location it is at, for safety's sake.
The Find My iPhone feature also allows users to remotely wipe the device. This feature can help you avoid identity theft, a data breach, or any other unfortunate experience that could happen with someone in possession of your phone. You will need to opt-in to these services, but you will be glad you did if the worst becomes reality. Here's how:
On your iPhone or iPad:
Open Settings.
Access iCloud.
Locate the Find My iPhone/Find My iPad slider and make sure it is switched On.
If you haven't already set up an iCloud account, you'll be taken through the steps by a tutorial. You will want to set up your iCloud account with a unique and strong password. We keep harping on this point, but it is an important one.
Apple will let you track your device through its iCloud service as long as it is still on or not in airplane mode.
Most iPhone users already have, but if you haven't you should set up Touch ID or Face ID on your device. That way, it will be extremely difficult to access the contents of your phone. To do this, access Settings under Touch ID & Passcode.
If you are careful, you will probably never need these features, but if you do have to use them you will be thankful they are there. With the increasing price of new mobile devices (and the importance of the data stored on them) they offer a kind of insurance against loss or theft.
At NuTech Services, we know the importance of technology for businesses and individuals alike and hope that you never have to worry about these features. Contact us today if you have any questions about how to protect your business' data against theft at 810.230.9455.