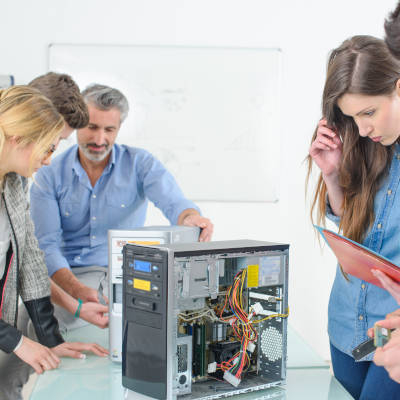 When you see that we offer tech support, you almost certainly have an idea of what that means. However, upon hearing about our typical service delivery for the first time, many people are really surprised by how different our services—as a managed service provider—are. These differences are not an accident. Let's go back in time a little while to explore how managed services came about, and what difference they could make for you.
What are Managed Services?
Let's start off with a very basic description of what "managed services" are, as compared to the common impression of "tech support." Whenever one thinks about "tech support" or "IT," they're likely thinking of the break-fix version: some piece of information technology breaks or malfunctions, so IT is called in to fix it. While this proved effective enough, it also led to a lot of repeat visits… oftentimes for things that were relatively simple to fix.
Managed services are a different approach, tailored particularly for small to medium-sized businesses. Instead of waiting for something to go wrong, a company will enlist a managed service provider—or MSP—to proactively monitor their IT to help prevent issues from impacting it. This brings a variety of benefits that we'll touch upon later. Right now, we wanted to look back and consider how this approach was first devised and deployed.
The History of Computer Support and Services
As computers were first introduced into the business landscape, so-called system builders—small regional businesses that offered "white box", or generic computers—would offer other businesses their services. Large companies soon joined in, and this resulted in the prices of personal computers plummeting.
To adapt, system builders quickly shifted from constructing labor-intensive computer systems to reselling what the large companies would offer, making the systems reseller a lucrative thing to be. After all, before the Internet helped link the manufacturer to the end user, these manufacturers needed a go-between to get these devices into a customer's hands. However, as time passed, these resellers realized that they needed to do more. As a result, systems resellers phased into "VARs", or value-added resellers.
Basically, VARs were computer resellers who would not only sell the machines but would also assist with the installation and networking of these systems. As the Internet became more applicable to business needs and challenges in the early 1990s, this networking (and the additional equipment needed to support it) only became more crucial.
At this point, the VARs became known as the systems integrators, as this more accurately described their function. This point in time was also the high point for break/fix IT repair services.
As the late '90s rolled around, IT services were commonplace enough that providers were frequently stepping into advisory roles for their clients, making recommendations and implementing best practices. With this shift, systems integrators adopted the title of IT consultants.
Of course, as the technology used by businesses became more advanced and capable, repairing issues as they arose became less feasible. This, paired with the remote capabilities that the Internet was able to support, made the idea of proactive maintenance and online solution delivery a workable possibility.
Thus, managed services were born, with service providers delivering up-to-date and optimized solutions in exchange for a set monthly rate.
What Do Managed Services Entail?
Nowadays, managed services have risen to become the preferred choice for businesses in the know, thanks to the improvements that these businesses see to their productivity and operations. With a single provider attending to all a business' IT-related needs, working with a managed service provider has shown to have clear operational benefits.
At NuTech Services, our team of professionals is proud to provide the best managed services that businesses could ask for at a reasonable, all-inclusive rate. Interested in learning more about our services? Reach out to our team by calling 810.230.9455 today.