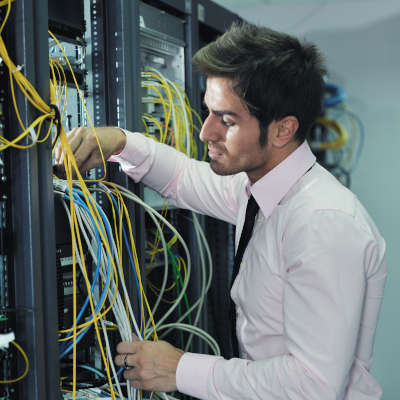 As the pandemic enters its third quarter, many places have the spread of the COVID-19 virus under control and are starting to open up offices and other workplaces. Ultimately, it is the business owners' and managers' decision whether or not to demand attendance in an office, as most jobs completed in one can be effectively completed from home. For businesses that are opening their office and inviting their employees back, technology is still going to play a significant role. Let's take a look at what IT is going to be important for people returning to the office after all this time.
It's true that there are a lot of businesses that rely on their workforce to show up every day. Many of these businesses were forced to shut down or operate at limited capacity during the pandemic but are just now getting up to speed. Outside of operations, there are a lot of administrative uses of technology, some of which involve protecting employee and customer information. Let's get into some of the strategies that businesses can use to get the most out of their workforce at this time.
Remote Operations
Ironically, until this whole COVID-19 mess is over with, the most prudent decisions are going to be made using technology that supports remote work, even if you've mandated employees to work at your place of business. Not only does it remove physical interaction of your staff to protect them from contracting potentially dangerous viruses, it protects clients as well.
This strategy includes the use of internet-based tools and substantial training initiatives. According to an IMB survey just over half of remote workers during the pandemic were actually trained to protect work-related resources, so making employee training a priority makes sense.
Hybrid Operations
There's a saying, "You have to crawl before you walk." It means that you have to work up to something. If you already have a remote workforce and you are looking to get them to move back to the office or the workplace, you should start implementing a strategy that gets people in waves. The most important thing is to prioritize employee health during this time, as any COVID-19 outbreak could make it difficult for you to conduct business at all.
In regards to the IT deployment, this strategy is probably the most resource intensive because you have to both be cognizant of your network security inside your business, while also keeping abreast of how your remote workers are using your computing resources.
Onsite Operations
Getting back to "business-as-usual" will be nice, and if you can accomplish it now, that's great. It's just not a strategy many businesses can support at this juncture, especially if they feature open office spaces and shared bathroom facilities. IT management is simpler for IT administrators when everyone is in one location and on the same page.
Regardless of what your plans are for your human resources, you need to ensure that everyone understands how to mitigate the numerous types of threats your business faces each day. To talk to one of our security professionals about your business' situation, call us today at 810.230.9455.