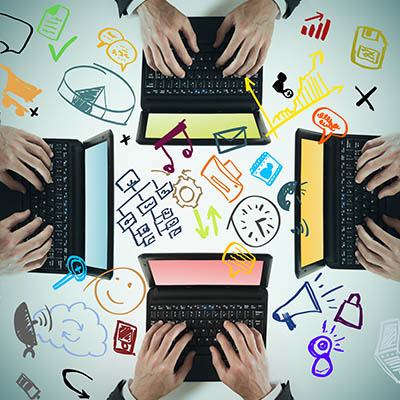 With businesses depending on technology more now than ever, it stands to reason that the collaboration solutions that are available would improve as demand increases. Today's business needs a collaboration solution that allows them to communicate, manage tasks, and be a reliable solution for teams separated by more than just a wall. Let's take a look at the modern collaboration tool and how they provide powerful benefits for the modern business.
What Are Collaboration Solutions?
There used to be the phone, then there was email, then instant messaging; the modern business landscape has been formed from the invention and innovation of tools that allow people to communicate through technology. With many business leaders searching for working solutions for their company's inefficiencies, developers have created a set of new tools that work to integrate communication with productivity in new ways.
New collaboration solutions don't just combine tools, they create complete environments where people can work together to complete a common goal from about anywhere. These new tools are a benefit to any organization whether your workers work side-by-side in an office or if they are separated by hundreds or thousands of miles. This is because solid collaboration tools can help your team build solid practices and relationships. This results in better outcomes.
The Collaboration App
Technically, there are only three types of collaboration software. They are:
Communication – VoIP, email, instant messaging keep people in contact and are relatively easy to use and cost efficient.
Conferencing – Video and audio conferencing takes the standard communication and makes it work for larger groups of people.
Coordination – In order to successfully collaborate with others, everyone needs access to the resources to complete the task/job/project. Having the ability to schedule people, send, receive, and store files, and control access to resources are extremely useful variables when working in a collaborative setting.
Today, there are apps that provide teams (and whole companies) the means to manage their work, communicate in multiple ways, and even integrate useful tools that will make work move that much faster. These collaboration tools are typically set up like a customizable forum, but each new forum feed has the ability to be a central hub to any particular project. Additionally, by allowing for all types of third-party application integrations, these apps build a completely customizable solution that can allow people to communicate through several different means, have the resources they need on hand, and provide the tools needed to build a culture that revolves around efficient teamwork.
If you would like to talk to one of our certified IT technicians about collaboration software that can change the way your business functions and gives you the tools your business requires to get where it wants to go, give NuTech Services a call today at 810.230.9455.