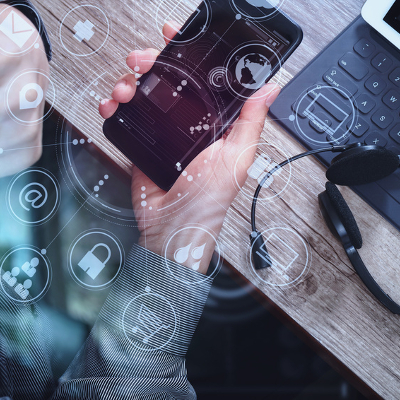 VoIP, or Voice over Internet Protocol, has become the only practical choice for a forward-focused business' telephony needs. Any one of those who have adopted it could share a reason that they leverage it. But what is VoIP, really? How does it work, and why is it so popular among businesses? Read on to find out.
To understand VoIP, it may help to understand how the traditional telephone operates. When someone speaks into the receiver, the vibrations from the sound energy hit a part of the phone called the diaphragm and are converted to electrical energy. This energy is transferred through the phone lines to its destination: the recipient's telephone handset. Once the energy is there, it is reverted to sound, and the first person's voice can be heard.
VoIP works in a similar way, albeit more advanced. There are actually multiple methods to using VoIP, but we'll focus on using VoIP through an IP phone.
Just as with the traditional telephone, the process begins when someone speaks into a receiver. However, instead of being converted into electrical energy, the sound of your voice is compressed and compiled into digital packets, which are then sent to the recipient via the Internet. By sending it over the Internet in this way, there is no longer a need to pay the phone company additional funds, lending VoIP its first benefit of cost savings through consolidation.
VoIP phones also allow you a better means of control over your telephony as a whole. With a plethora of features included that would only be available from a phone service provider for a premium price, you have considerable management capabilities. From voicemail to contact lists to conference calling to so much more, the right VoIP solution can lend you advanced business communicative abilities without the advanced prices.
Clearly, there are cost savings to be enjoyed through a VoIP system, but the benefits don't stop there. Reach out to us at 810.230.9455 to learn about some other ways that VoIP can augment your business operations.