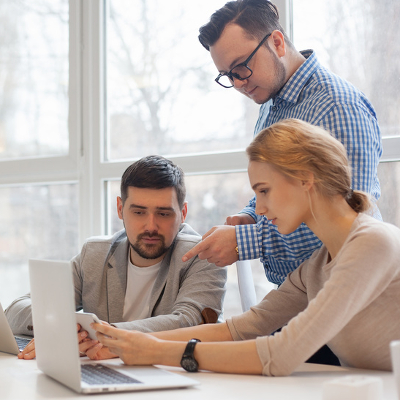 Millennials are entering the workforce at a considerable rate. In fact, some experts claim that millennials will soon make up at least one-third of the entire workforce. Thus, it's important for both employers and workers from previous generations to understand how this generation thinks, acts, feels, and most important of all, works.
Traditional vs Flexible Work Hours
One of the most prominent trends seen in millennial workers is that they have a strong desire to keep a balance between their professional and personal lives. Yet, this desire isn't necessarily exclusive to them. It's reasonable to suggest that most workers would prefer this type of work-life balance. Commonly seen amongst millennials is their desire to work hard during their scheduled hours, but they still want to go home at the end of the day. Basically, they want some sort of control over how their time, both in and out of the office, is spent.
A great example of this can be seen in the daily commute. Millennials might be fine with driving to the office, but it's probably safe to say that they would rather be using time spent on a commute to get right to work remotely. To put this claim in perspective, let's take a look at some recent statistics. There are currently around three million remote workers in America, and this is expected to grow by 63 percent in the next five years. Pew Research Center suggests that 64 percent of millennials would at least like the option to work from home on occasion. Similarly, Pew found that 66 percent of millennial workers would prefer a shift in their work hours, allowing for a more flexible work/life balance.
Career Growth and Improvement
One of the top priorities of millennial workers is that they want to experience growth and improvement in their professional lives. They aren't going to be satisfied with just one job in their lives. They always seek both professional and financial opportunity, and it's something that they hope to get from your business. Rather than having a direct supervisor, they want to consider authority figures within your organization to be mentors; someone who helps them learn how to do their job better.
These workers will also want to provide their own individual input into big projects, and they want to feel valued and validated. One way you can accomplish this is by giving new hires small responsibilities at first, and offering the possibility of expanding on these responsibilities in the future. Provide quality feedback and tell them what they are doing right (or wrong) so they can plan out the next step of their professional development.
Technology is Second-Nature to Them
Last but not least, it's crucial that your business understand that millennials have grown up surrounded by the technology that many take for granted today. They can adapt to systems quickly and efficiently, and (since they want to be challenged) this gives them a great opportunity to test themselves with new software or hardware solutions. By letting them use the latest and greatest technology solutions, you'll give them a great incentive to stick around longer.
If you want to ensure that your millennial employees will hang around and continue to be a benefit to your organization, NuTech Services can equip your business with the latest technology solutions. To learn more, reach out to us at 810.230.9455.