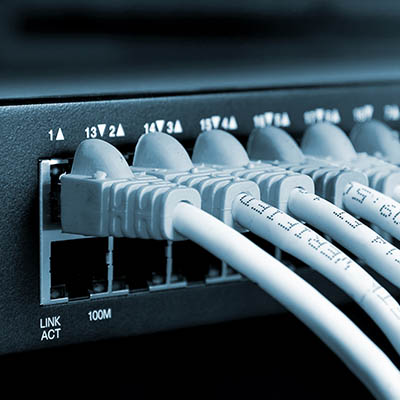 Too frequently, we hear stories about cyberattacks, software vulnerabilities turned tragic, and other pretty terrible situations for businesses. In an effort to help fight this, we've put together a list of handy tips for you so that you can be prepared to ward off threats.
Leverage Authentication Measures
One of the first steps to securing your network against threats is to create strong authentication procedures. Most of the devices with permission to access your network will already have an authentication system in place, based on a password. If the passwords used are strong enough, this can actually mitigate most threats – but you still have to worry about the ones that this doesn't discourage. Leveraging something called multi-factor, or two-factor, authentication can help minimize the chance of something slipping past your security.
Two-factor authentication works in a relatively straightforward way. As with most login systems, a username and password are entered – but instead of being granted access, the user is asked for another credential. This is usually a randomly-generated code that a specialized authentication app will generate. Mobile devices are popular to use with 2FA, as their convenient nature makes them more likely to be available when needed. In order for a user to leverage their mobile device, the 2FA system administrator has to authorize it.
Tip: Make sure that you don't let your password best practices slip, even if leveraging 2FA. Your passwords still need to be sufficiently complex. If you are one of those who find remembering different passwords difficult, consider using a password management system in conjunction with your 2FA.
Protecting Your Business' Computing Environment
Whether you use a Local Area Network or a Wide Area Network, the security practices that you need to deploy are fairly predictable. Once you've seen to your authentication needs, you need to combine three approaches to security into one all-encompassing strategy: your software-based security, your physical security measures, and your security awareness and best practice training.
Software-Based Security
There are many examples of how software can help keep your business' network secure. From firewalls to content filtering to antivirus to spam detection, each of these tools protect your business data from a different kind of threat. You may even want to consider adding encryption to your email solution to make it a lot less likely that the contents of your messages will be intercepted.
Tip: If you aren't sure which solutions are the right ones to implement, think about how your data moves about your business. The more insight you have into how your data operates, the more effectively you will be able to plan its protections.
Physical Security Measures
Somewhat ironically, we seem to have become so focused on our digital security that it can sometimes seem like we forget that there are very real reasons to protect our physical locations and infrastructure, as well. Consider the damage a bitter ex-employee could do in moments, should they manage to get into your server room. It has become fashionable to leverage biometric authorization measures to protect your server room – and there's a lot to be said about a good, old-fashioned surveillance system, complete with alarms and cameras (as well as some updates to make this system considerably less old-fashioned).
Tip: Bring in a consulting professional to help you determine your physical security needs. Not only does this save you time by eliminating work you would otherwise have to do for yourself, it ensures that your system will be designed by an experienced professional that knows what will work best in different situations.
Security Awareness and Best Practice Training
Would you be surprised to hear that your employees are likely your biggest vulnerability? Of all of the pieces that make up your network security, the people who use your technology are the leading cause of security issues. With the number of ways that your business could be attacked, your staff needs to be educated on how to identify them and avoid them.
Tip: Both businesses and individuals have experienced difficulties with phishing and it adversely affecting them, so it makes sense to begin your training there. Not only is it a common issue, it is conceptually very simple to grasp, so it is a good starting point before moving on to increasingly complex concerns. The more your staff knows about how they can resist attacks, the more likely they'll be able to do so if the needs arises.
Remote Solutions Via the Cloud
Modern organizations need to contend with potential threats to their network infrastructures, as businesses always have in some form. The difference is that issues can now come in on the mobile devices owned by their staff, and company resources can be routinely accessed from outside the business' area network.
This has helped contribute greatly to the growth of cloud computing technologies – although the relative cost savings don't hurt either. Using the cloud, your staff can access their work data and applications from a remote location, while the resources stored in the cloud are kept secure by the platform's baked-in security and privacy.
Mobile devices have also been a disruptor to business-as-usual, which means that businesses need to plan on leveraging them if they don't want them becoming a distraction. Designing a Bring Your Own Device policy and enforcing it through mobile device management solutions is an effective and secure way of reaching a compromise and minimizing the time wasted by mobile devices in the workplace.
Tip: Remember that cloud services are inherently scalable, so you don't need to worry about overreaching your capabilities. However, you also don't want to waste capital that doesn't need to be spent. Auditing your resources is an effective way to identify and eliminate redundant costs leeching from your budget.
Network security can be complicated, but it is an absolutely crucial element to your technology strategy if you want to have any success. NuTech Services can help take care of the technical side of things for you, and help teach better habits to your staff. To learn more, keep reading our tips, and reach out to us at 810.230.9455.